While blockchain technology may mean different things to different people depending on its application, it is gradually transiting from just being a buzzword to becoming a technological innovation that innovators continue to apply across various sectors and industries. Blockchain, as a distributed ledger technology with cryptographic security, has been described as the third-generation Internet that enables anyone store, manage, or transfer anything of value, including currencies, digital identities, intellectual property, and stocks, in a secure manner without the need for a central authority or third party. This is no doubt inventive and disruptive, particularly in the financial services industry where the first application of blockchain has witnessed the most disruption: cryptocurrencies, virtual assets, and decentralized finance (DeFi). Today, blockchain is empowering innovators, including the Founder & Team Lead of Kumo Wallet, who have continued to build solutions leveraging the power of blockchain technology.
"The blockchain space has created a global village such that an Indian startup that started yesterday becomes a global company because it created a coin or tokenized its solution. With blockchain, we see new companies gaining global relevance in record time", says Abikure Tega, Founder & Team Lead of Kumo Wallet the social payment & trading app for crypto & fiat.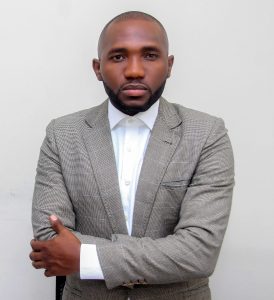 "Before now, it would take 10–15–20 years for a fast-growing, well-managed organization to hit the global stage. But today with the blockchain technology, you can create a startup today and with the right innovation and smart solution and boom, you are already global. Look at Binance. How old is Binance? You hear about valuations of the likes of Paystack and Flutterwave, but what about Binance? Binance is just 4 years old and look at their valuation today and the companies it has invested in."
If anyone is by now thinking that by simply deploying blockchain, your startup will become an overnight success, then you are missing Tega's point. Tega's own Kumo Wallet didn't start overnight. Transiting from Kurepay which has been in the blockchain space since 2018, Kumo today is a result of determination, focus, hardwork, and grit. Offering users the ability to earn interest on stablecoins, buy crypto in Nigeria with Naira, and profit from investments, Kumo Wallet is bringing financial inclusion to everyone's doorstep. Kumo is available on both Google Play and App Store.
Indeed, many of the biggest brands in the blockchain industry today are not more than 5 years old. Explaining how blockchain is enabling such fast growth rate amongst blockchain companies across the world, Tega asserted that "what is happening today is that the activity in the blockchain space is global." He continued, "For the very first time, you could be in Umuahia, create a solution, build it as a dapp on a chain, and you are in front of everybody. You have equal opportunity with any other person anywhere in the world, be it in India, be it in Malaysia, be it in China, or Korea, to showcase the solution you have created and if the world thinks it's good enough, it puts money in your pocket."
"So you could actually build your 1 billion dollar market-capitalization company in a short period of time, especially if the exchange is Binance, Coinbase, Kraken, or most of these top exchanges. They list you in the market and then you are exposed to lots of investors all over the world. And this is just finance; not talking of entertainment, NFTs, and the metaverse. It is a world of its own."
But is the proliferation of blockchain companies built overnight because blockchain has enabled this not also proliferating risks in the space, leading to failed companies and the overnight crashes we are currently witnessing in the blockchain space today? Tega responded, pointing to the inevitability of evolution in the blockchain industry. "Because blockchain is a technology and an industry, it came alongside with several phases and as we are trying to deal with one phase, another phase emerges which is of course causing a lot of frustration for innovators and those looking at how to come into the space. However, each phase that the industry showcases comes with a lot of opportunities."
But how about the risks involved in the unending proliferation of hundreds of thousands of coins in the fast-growing blockchain industry today? Tega, who has some experience in how the stock market works and has invested in a number of traditional stocks responded: "Today we have over 300,000 tokens out there. Someone raised concerns about the number of tokens, asking whether it isn't creating confusion. But if you take out time to count the number of listed stocks across the world, you realize that token creation has just started. Though some digital platforms have started changing this, the only difference is that as a Nigerian you are exposed to the Nigerian Stock Exchange; as a South African you are exposed to the Johannesburg Stock Exchange; as a U.S. citizen you are exposed to the New York Stock Exchange. So if you are in one continent or country you don't know what's happening in the other country or continent." 
How does the government come in? Should governments resist the proliferation of these blockchain-based tokens across industries and sectors or should they embrace it? Tega thinks governments should support the blockchain industry while also ensuring that it helps to minimize the risks that may be associated with the adoption of blockchain-based solutions: "There is no joy that any government will have than the joy that comes with embracing these innovations that have come. Of course, the government now needs to start looking at how to protect its citizens, especially those who do not know so much."
With startups such as Tega's Kumo Wallet focusing on financial inclusion in Africa, it may just be a matter of time before a 1 billion dollar company is born.