With blockchain technology, building a project and accessing a global community of users and investors has never been easier. Today, entrepreneurs and innovators from across the world, including Africa, are building projects across various industries and sectors. From cross-border transfers, investment products, payments, and remittances in the financial-services industry to innovative solutions in agriculture, entertainment, transportation, supply & logistics, and others, blockchain is changing the way that we store, manage, and transfer anything of value in the third-generation Internet.   
At the recently concluded Legal Business Conference that held in Lagos in May 2022, Abikure Tega, Founder & Team Lead of Kumo Wallet the social payment & trading app for crypto & fiat, spoke about the immense opportunities in the global blockchain industry. Responding to one of the questions posed to him about the opportunities blockchain technology brings, Mr. Tega, participating from Abuja FCT with a delighted face via a Zoom screen, replied: "The opportunities in the blockchain industry are so much." 
Just how much are these opportunities against the background of a blockchain industry that has grown from being a $1.2 billion industry in 2018 to a $12.7 billion industry today (Statistica)?
After tracing the evolution of the blockchain industry from 2009 when Satoshi Nakamoto invented the first and most popular application of blockchain, Bitcoin, Mr. Tega said: "While the central banks and other regulators are trying to see how they can curtail the supposed excesses that bitcoin comes with, DeFi comes along with it. For every phase of this innovation comes developers, therefore creating lots of jobs. About 60% of developers playing in the blockchain space in Nigeria earn in dollars. This is because this industry has created a level-playing ground whereby it's either you play global or just close shop. The opportunities for programmers and tech developers are really amazing."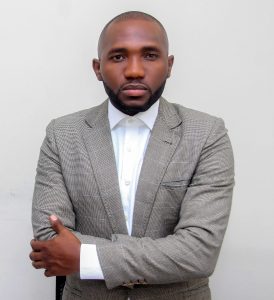 Emphasizing the fresh and significant opportunities blockchain technology is uniquely bringing to Africa in today's global and digital economy, Mr. Tega pointed out as follows: "Although blockchain technology is not the first in the tech world that has needed developers, if you notice, most of these ecosystems that came did a lot of investing in creating developers because they wanted dapps (decentralized applications) in their space."
"Take for instance the development project that Binance did in Africa trying to build developers in Africa in order to bring projects to their space. Same with Cardano, Solana, and others looking to Africa to have developers build in their ecosystems. All of these opportunities are engaging young people 24/7 right in front of their systems in their homes creating solutions and getting paid in hard currencies. That for me is amazing."
Indeed, global brands including Binance, Cardano, Solana, OKX (formerly OKEx) and recently Concordium have demonstrated interest in the Africa blockchain space, particularly Nigeria as the leading market, introducing various programs targeted at bringing viable projects to their ecosystems.  
A pioneer in Africa's blockchain industry and crypto space, Mr. Tega has always engaged the industry from the point of view of a visionary builder and innovator, daring to take the uneasy but rewarding path. In his closing words, "From the very first day I heard about blockchain, I have been excited about the opportunities. Apart from buying bitcoin, I thought I should build in the space. For as long as I remain in this space, I am building. Creating solutions will always be my focus and what I look out for in the blockchain industry". Kumo Wallet, a social payment & trading app for crypto and fiat that connects the best of two world, is how Mr. Tega is innovating and building in the space.
Indeed, blockchain technology has not only created a global village for startups such as Kumo Wallet to gain global relevance, but also continues to empower visionary entrepreneurs and founders like Abikure Tega to create the path others will take from Africa to the world.