Vietnam, India, and Pakistan lead the top 20 countries in global crypto adoption in 2021. Ukraine, Kenya, and Nigeria made it to the top 6. This is as reported in the top 20 table published by Chainalysis in The 2021 Global Crypto Adoption Index.
Globally, Vietnam ranks no. 1 with an index score of 1.00, onchain value received rated 2, onchain retail value rated 4, and P2P exchange trade value rated 3. In Vietnam, bitcoin has been a major alternative to migrants who need to send money home. This growing use case has made crypto-related remittance payments take a large part of the pie.
India ranks no. 2 with an index score of 0.37, onchain value received rated 3, onchain retail value rated 2, and P2P exchange trade value rated 72. Recently coming out of a 2018 cryptocurrency ban after the Supreme Court of India ordered the Reserve Bank of India to discontinue the ban, crypto adoption has continued to grow in the country. From housing a tech hub by Coinbase to gaining its first crypto unicorn (coinDCX), and considering the country's large and techy population, it is perhaps not surprising to see India in second place.
Coming behind India is Pakistan at third place. Pakistan has an index score of 0.29, onchain value received rated 12, onchain retail value rated 11, and P2P exchange [efn_note]This means a peer-to-peer or decentralized form of exchange that allows the users or the participants to trade directly with each other. The exchange is maintained on a blockchain-powered platform. In other words, P2P exchanges allow you to directly transfer cryptocurrency from your account to the account of another person without the need for intermediaries or any third party (Source: Coinpedia.org). [/efn_note] trade value rated 8. While Binance and LocalBitcoins are popular exchanges in Pakistan, peer-to-peer (P2P) platforms are also used in the country. Chainalysis estimates that the country received about $1.5 billion in cryptocurrency during 2019-20.
Ukraine ranks no. 4 on the Index, while two African countries namely Kenya and Nigeria rank no. 5 and no. 6 respectively. Venezuela and the United States, which rank 7 and 8 respectively, separate Nigeria and Togo which ranks no. 9. Argentina is no. 10. Afghanistan, where the Taliban became the government in July 2021, is 20th in the world.
P2P adoption in emerging markets continue to witness rapid growth.
One of the trends revealed in the The 2021 Global Crypto Adoption Index is the increasing adoption of P2P platforms in emerging markets. These emerging markets include Kenya, Nigeria, Venezuela, and Vietnam. Indeed, the largest gateway to the cryptocurrency or crypto asset world in emerging markets remains P2P crypto platforms. Therefore, whether due to restrictions to the banking and financial system by regulators or preference for decentralized exchanges, P2P crypto platforms such as Paxful, LocalBitcoin, Binance P2P, and others continue to witness user growth, particularly in Africa.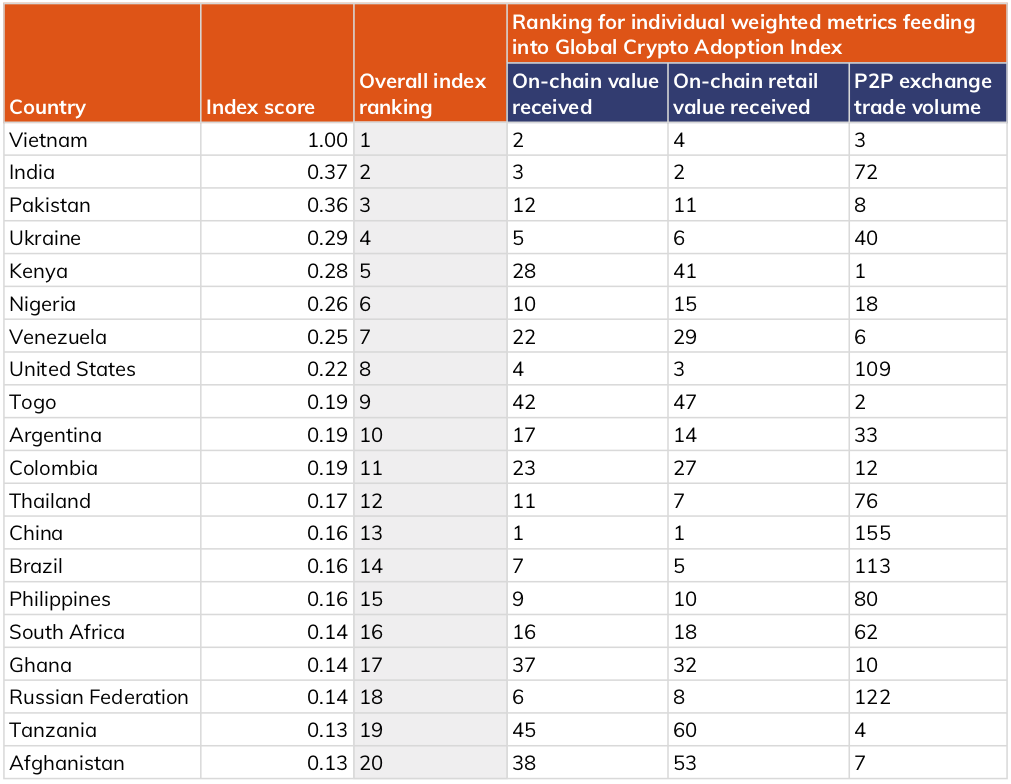 In determining which countries have the highest crypto adoption globally, Chainalysis has in this year's index abandoned transaction volume for a methodology that ranks each country. This methodology considers not only the cryptocurrency received but also the country's purchasing power parity (PPP) per capita. It ensures that countries with high levels of professional and institutional cryptocurrency adoption such as China or the United States for example do not have undue advantage over countries like Kenya and Nigeria for example with some of the strongest cryptocurrency adoption by everyday people. Therefore, the higher the ratio of on-chain value received to PPP per capita, the higher the ranking. 
According to The 2021 Global Crypto Adoption Index, the Index has also focused "on use cases related to transactions and individual saving rather than trading and speculation". This and the other elements factored into the methodology may explain why Kenya for example is ahead of Nigeria on the table in crypto adoption.
What could the Chainalysis Index mean for the crypto asset buyer?
P2P adoption continues to grow rapidly, especially in countries where institutional adoption is either slow or largely nonexistent. As long as access to the banking and financial system is restricted for cryptocurrency or crypto asset users, it is expected that P2P platforms will continue to serve as a preferred window to the crypto world for everyday people and people who are less privacy-centric. One of the things that may result from this pattern in the near future, potentially affecting the value of cryptocurrencies or crypto assets, is an eventual response from regulators. Regulators, particularly in P2P-high countries, may likely respond by eventually introducing cryptocurrency regulation or continue to build resistance in order to avoid (completely) losing control. Whichever way it goes, it is expected that decentralized currencies, including bitcoin, would be less impacted compared to less decentralized currencies. The shape and size this impact will take will vary globally but with similar patterns.
P2P Exchange