Central, Northern, & Western Europe ('CNWE' or 'Europe') is now the no.1 crypto economy in the world after receiving over $1 trillion within the last one year, according to a latest Chainalysis report. This amounts to a quarter of the global transactions in the last one year. And it is driven by whales in decentralized finance (DeFi). There are four major points particularly worth highlighting from the emergence of Europe as the biggest crypto economy in the world:
First, Europe sent out at least a quarter of all value moved to other regions within the relevant period. North America alone attracted up to 34% of the value that moved from Europe to other regions.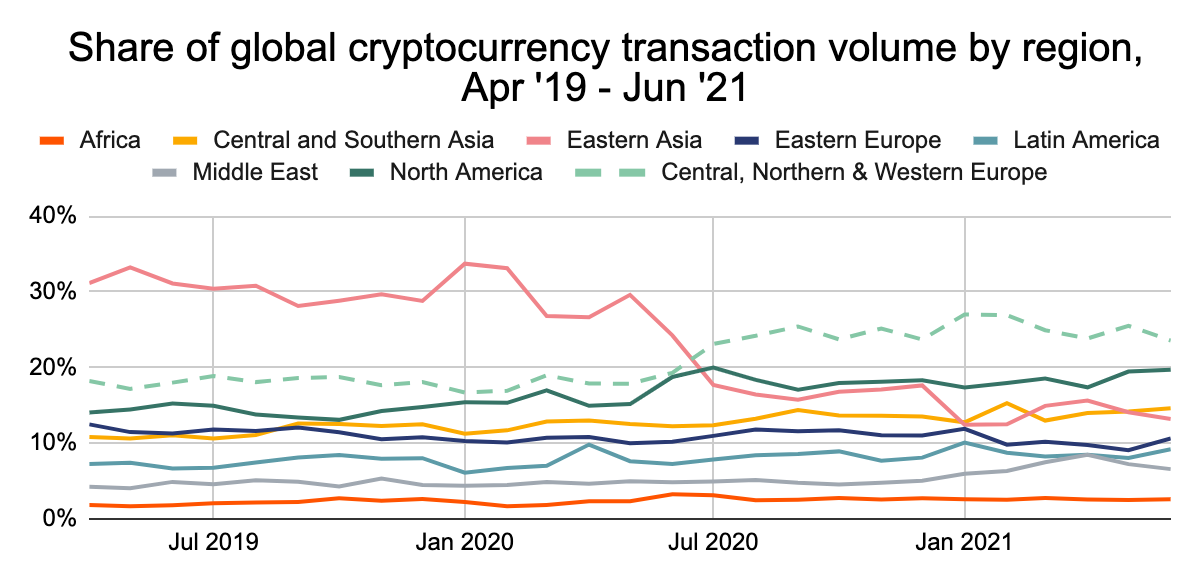 Second, the value of institutional investments—characterized by large institutional cryptocurrency transactions—grew from $1.4 billion in July 2020 to $46.3 billion in June 2021. Most of these large investments were on Defi protocols1. And majority of these were made in Ethereum and wrapped Ethereum (wETH). Commonly used on DeFi platforms, this is an ERC-20 token which is equivalent in value to Ethereum.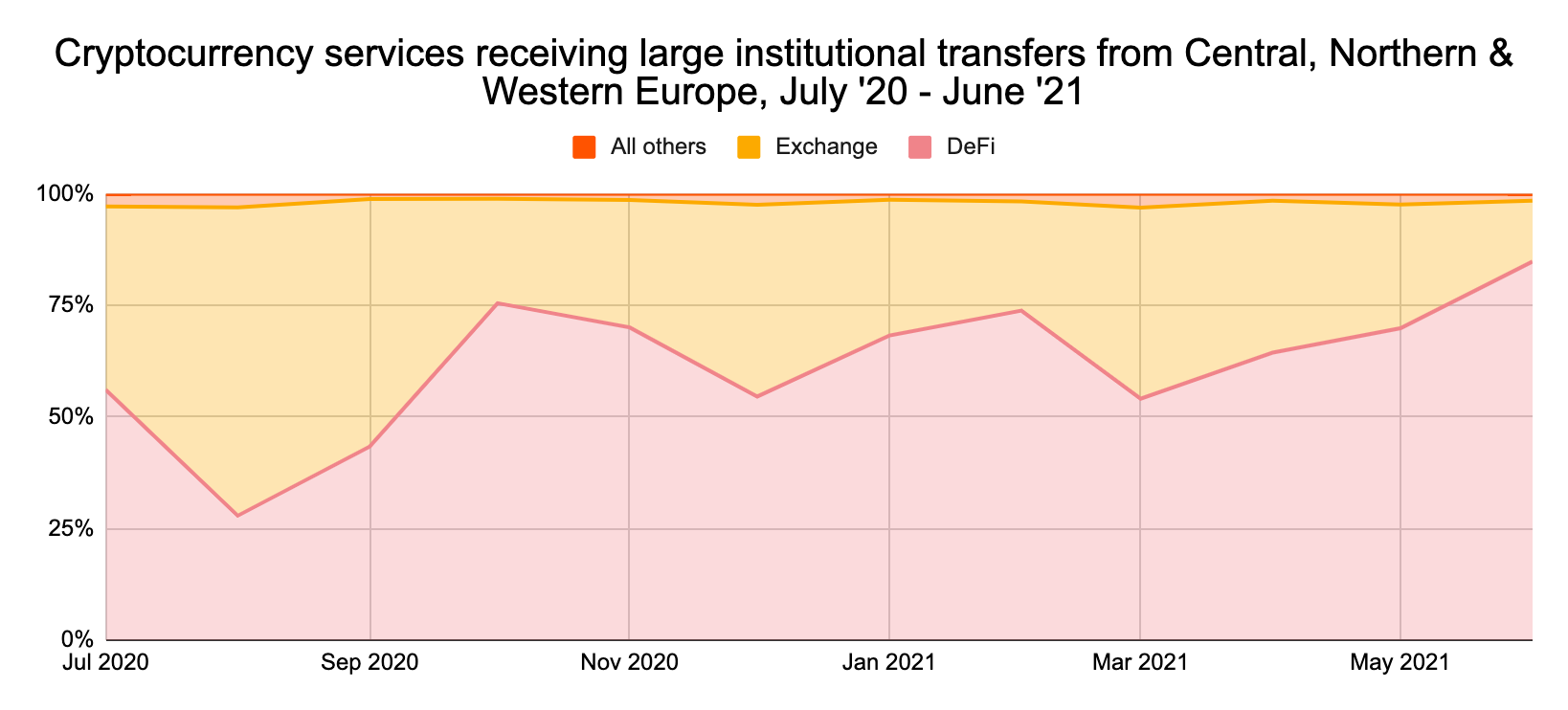 Third, the graph on share of transfer activity by coin type and transfer size shows Ethereum/wETH got the highest share of transfers from large institutions, amounting to over 60%. This is followed by investments into stablecoins (about 18%), bitcoin (about 16%), and altcoin (about 3%). Noticeably, apart from professional transfers, bitcoin transfers, large institutional, institutional, large retail, and small retail did more Ethereum/wERH transfers. Below we look at this both from the type of investor and the country level: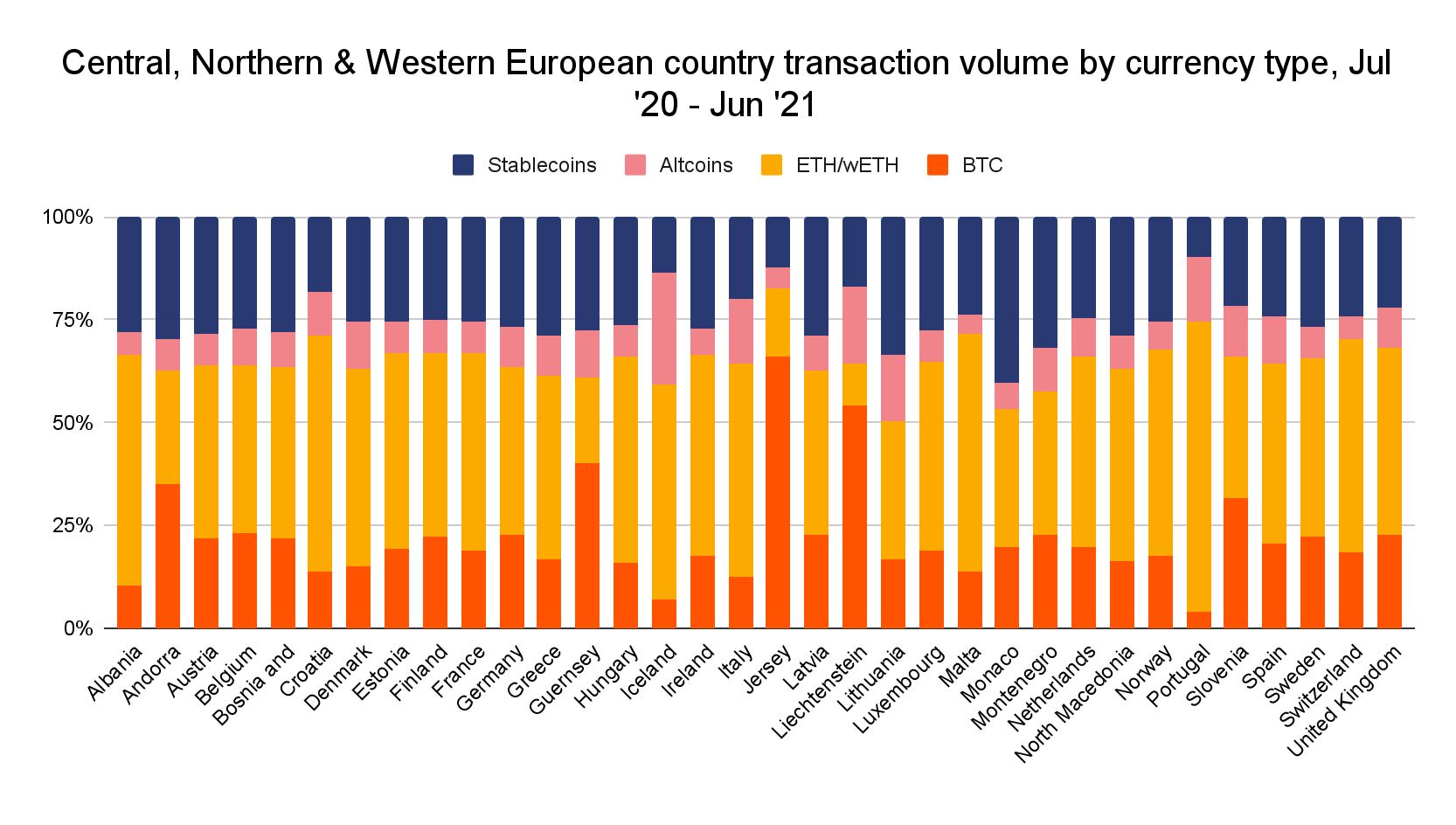 Fourth, from July 2020 to June 2021, DeFi protocols dominated the top 5 five services that received the most transfers in most months. Uniswap, Instadapp, and dydx are the most frequent. On the centralized exchange side, Binance is the most popular centralized exchanges used. This is followed by Coinbase.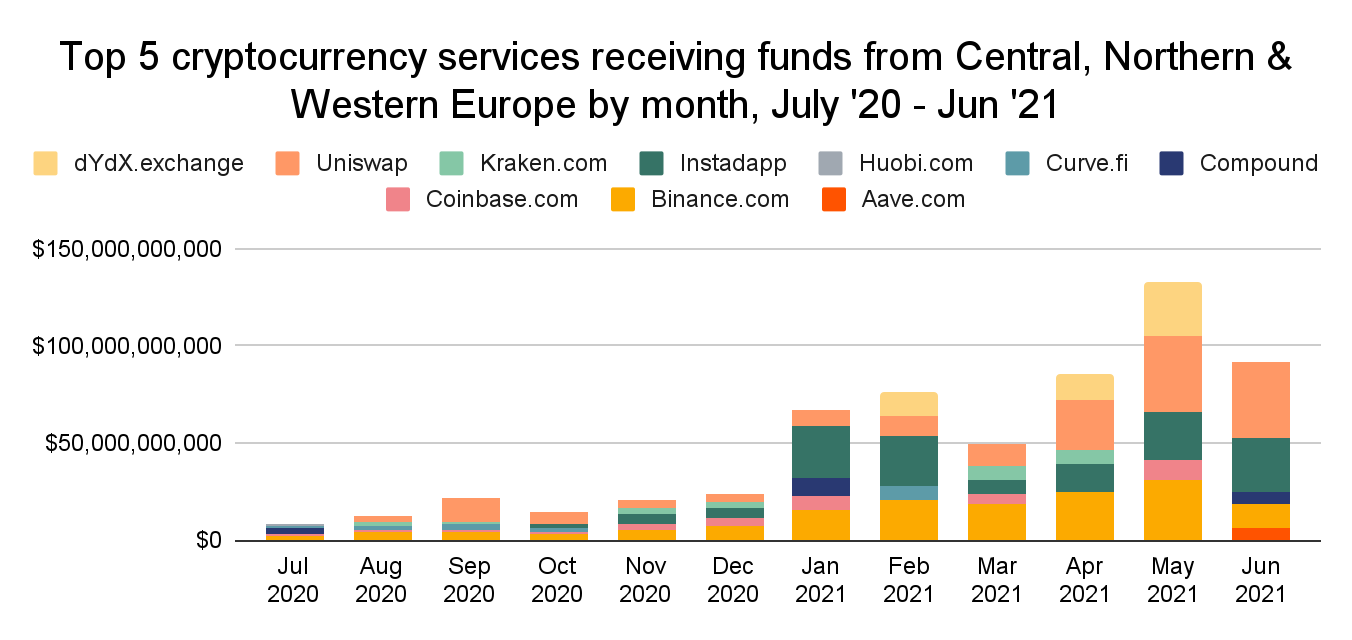 Europe as the international hub for crypto services, led by the United Kingdom
Perhaps reflecting Europe's status as the international hub for crypto services, Europe has more overlap of services most used in Europe and the rest of the world. Currently, Europe's biggest trading partner is North America. This is followed by Eastern Asia, Central & Southern Asia, and Eastern Europe.
Meanwhile, based on the volume of cryptocurrency received by a country, the United Kingdom tops the chart, followed by France, Germany, Netherlands, and Switzerland. The United Kingdom leads by a wide margin at $170 billion, and almost half of that (49%) is from value sent to DeFi platforms.
Europe's emergence as the world's biggest crypto economy by volume of transaction should not come as a surprise. First, Europe ranked second last year. Second, the crypto economy in Europe has experienced massive growth particularly in the last one year, beginning from July 2020. Third, crypto activity in Eastern Asia has experienced a decline in the last one year, no thanks to China FUD. And fourth, the current level of regulatory uncertainty in the US is not making the North American country as globally competitive as it is expected to be.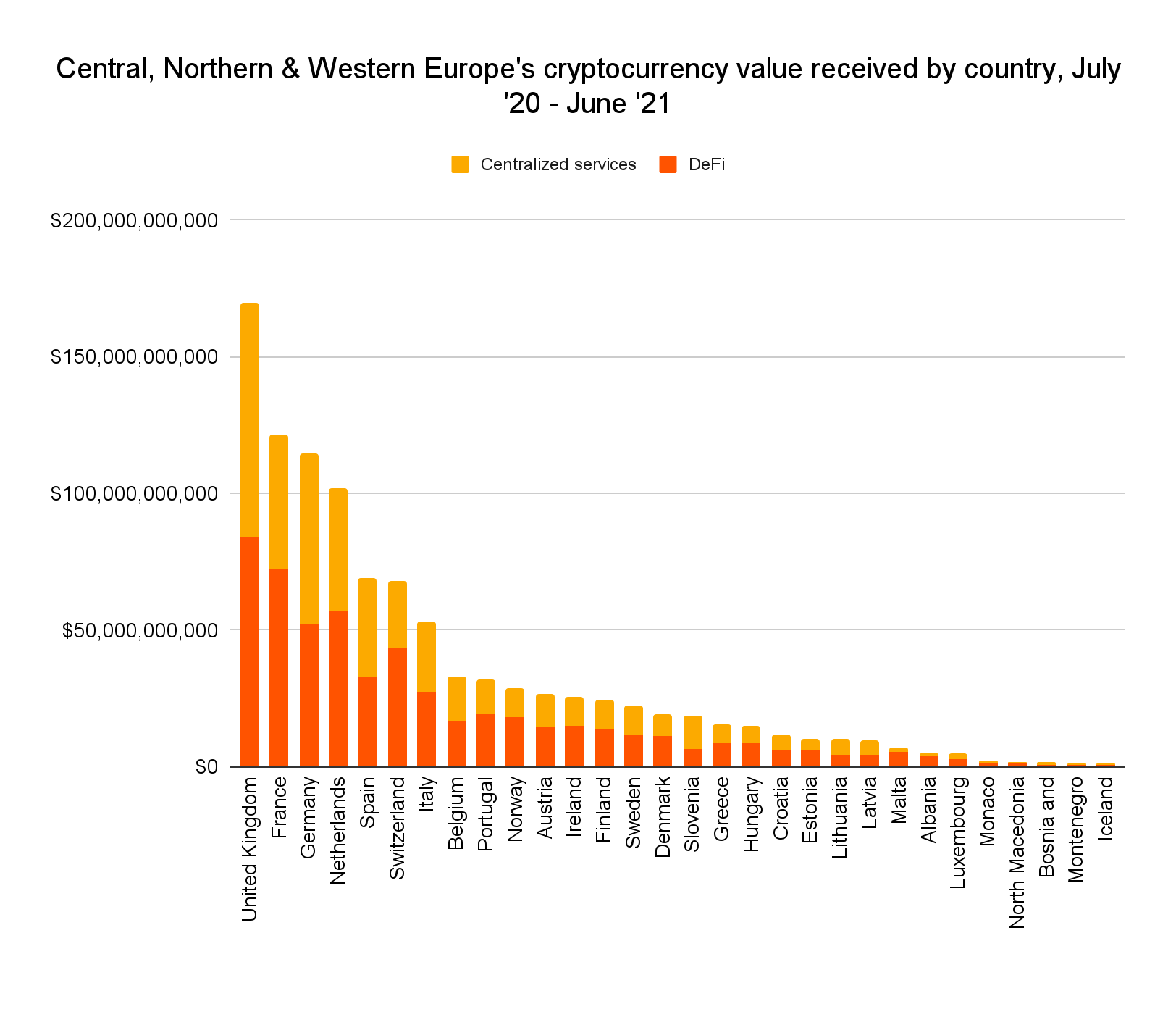 What could the Chainalysis report mean for the crypto asset buyer?
Europe leading the global crypto adoption is a refreshing green light, especially at a time of bearish crypto market as well as regulatory clampdown in the crypto economy. Particularly given current circumstances in China and the US, the global crypto economy is fairly safer in the hands of Europe. The constant FUD generated from government actions in China is unhealthy to crypto assets globally. And the current lack of regulatory certainty and direction in North America's biggest market (the US)—though less risky compared to China—is similarly unhealthy to crypto assets. And Africa and the Middle East—though with considerable rising grassroot and retail crypto adoption—are typically not known (at least historically) to have both the capacity and capability to provide the level of global leadership the international crypto ecosystem badly needs. In contrast to these hostility, uncertainty, and incapacity respectively, Europe—led by the United Kingdom, France, Germany, Netherlands, and Switzerland—currently provides a better and healthier business, investment, and regulatory environment for crypto assets. This is at least relatively so. Relatively, Europe has sound and innovative financial systems where the idea of serving as the international hub for financial innovators has been deliberately designed and fairly developed over the years. Europe generally has policies and laws that largely encourage economic freedom, protect access to financial services, and discourage discriminatory practices in the financial system. Therefore, Europe may most likely increasingly provide the hub for global crypto services, and consequently help to bring a reasonable level of openness, certainty, capacity to crypto innovations. This will positively impact the crypto market as well as help to improve consumer protection and investment safety, two vital areas institutional investors particularly need for crypto adoption or digital-assets investments generally.
One of the brilliant things about cryptocurrency, the blockchain, and smart contracts is that they all work in accordance with one another. The blockchain provides the decentralized space where a cryptocurrency can be transferred from one wallet to another using a protocol. DeFi is one of those protocols that don't rely on a 3rd party intermediary. Every cryptocurrency that uses the DeFi protocol is bound with the evident rise of the decentralized finance protocol. Some of the more notable cryptos that use DeFi are Synthetix Network Token, Chainlink, Dai, Aave, and many more. The success of the protocol has positively impacted the growth of these coins. And the more these coins grow, the more the DeFi protocol grows as well. (Credit: HiBoox.com)