LocalBitcoins announced Thursday its decision to shut down its bitcoin-trading services. Why is the pioneer person-to-person bitcoin trading marketplace closing shop? According to LocalBitcoin, this is due to the ongoing "very cold crypto-winter".
"We are therefore sad to share, that regardless of our efforts to overcome challenges during the ongoing very cold crypto-winter, we have regretfully concluded that LocalBitcoins can no longer provide its Bitcoin trading service."
Read also: What is bitcoin?
LocalBitcoins Customers are encouraged to withdraw their bitcoins "sooner".
All customers have been encouraged by LocalBitcoins to withdraw their funds from the platform by withdrawing their bitcoins from their LocalBitcoins wallet. LocalBitcoins has given customers up to 12 months (i.e till January 2024) to withdraw their bitcoins.
While customers have been given up to 12 months, LocalBitcoin encouraged customers "to proceed withdrawing sooner".
"You have 12 months to withdraw, however of course we encourage you to proceed withdrawing sooner."
Timeline for discontinuing the Bitcoin trading service
2023-02-09: Suspension of new sign ups
2023-02-16: Suspension of trading on LocalBitcoins; Suspension of using LocalBitcoins wallet (with exception of withdrawing one's funds)
After 2023-02-17: LocalBitcoins customers will only be able to log-in to withdraw their bitcoins. The trading and wallet services will no longer be available at this point.
Founded since 2012, LocalBitcoins is a pioneer bitcoin-trading platform that has gone global over the years. LocalBitcoin allows users to create advertisements where they can choose the payment method and exchange rate for buying and selling bitcoins amongst themselves. In addition to its escrow services, LocalBitcoins provides a web wallet from where you can send and receive bitcoin.
Read also: What is bitcoin halving and why does it matter to crypto investors?
As LocalBitcoins shut down, it will not be part of the future of digitalization.
Originally, LocalBitcoins was established to bring bitcoin everywhere and drive global financial inclusion. It has a loyal community. Since inception, LocalBitcoin has raised zero venture capital. Its CEO is Sara Leppänen.
Responding to a question in 2020 about the kinds of changes Sara believed the world could face in the near future, the Chief Financial Officer and Vice President of LocalBitcoins at the time responded:
"I believe that digitalization and the Internet will have an even bigger role in the future, and, of course, I believe that Bitcoin will follow on the same track. Due to the recent events, we've all had to learn to handle things better remotely and I believe this too can be a catalyst for the advance of digitalization."
While bitcoin may be a big part of that digitized future, sadly LocalBitcoins will not. Headquartered in Helsinki, Finland, LocalBitcoins Oy is registered with the Finnish Financial Supervisory Authority.
Read also: What will happen after all the 21 million bitcoins have been mined?
The same "very long crypto-winter" froze Core Scientific and a few other major bitcoin miners.
Last December, Core Scientific Inc (CORZ.O), one of the largest publicly traded cryptocurrency-mining companies in the United States, filed for Chapter 11 bankruptcy protection. According to Core Scientific, this was due to falling bitcoin prices, rising energy costs for bitcoin mining, and a $7 million unpaid debt from Celsius Network, the US crypto lender that collapsed the same year.
Core Scientific had to shut down more than 37,000 mining rigs which it was hosting for Celsius. CORZ.O price plunged 99.28 percent in the last year, down from over $10 traded a year ago to less than a cent.
It is the same cold crypto-winter.
Impact of the news of LocalBitcoins decision to shut down on the crypto market
Indeed, it has been a "very cold crypto-winter". And it is sad to know that LocalBitcoins will shut down in 12 months from now.
The news of LocalBitcoins shutting down in 12 months' time is shocking news to many followers. Amongst other reasons, LocalBitcoins is considered a pioneer in the bitcoin-trading market. Nonetheless, the news does not seem to have had any significant impact on the crypto market. 
Since the announcement, there has been no noticeable impact on bitcoin-price movement. Besides, LocalBitcoins has given sufficient notice to its users to make withdrawals. There are also no suspicions against LocalBitcoins concerning the use or custody of user funds, unlike the FTX situation for example.
Noticeably though, bitcoin price has fallen from about $22,990 on 9 February to about $21,850 within 24 hours. In a 5-day window, bitcoin price dropped from $23,423 to $21,569, representing a 4% drop. This drop in bitcoin price was not due to LocalBitcoins' announcement. The drop followed the news that crypto-exchange giant Kraken had agreed with the U.S. Securities and Exchange Commission (SEC) to shut down its U.S. cryptocurrency-staking operations.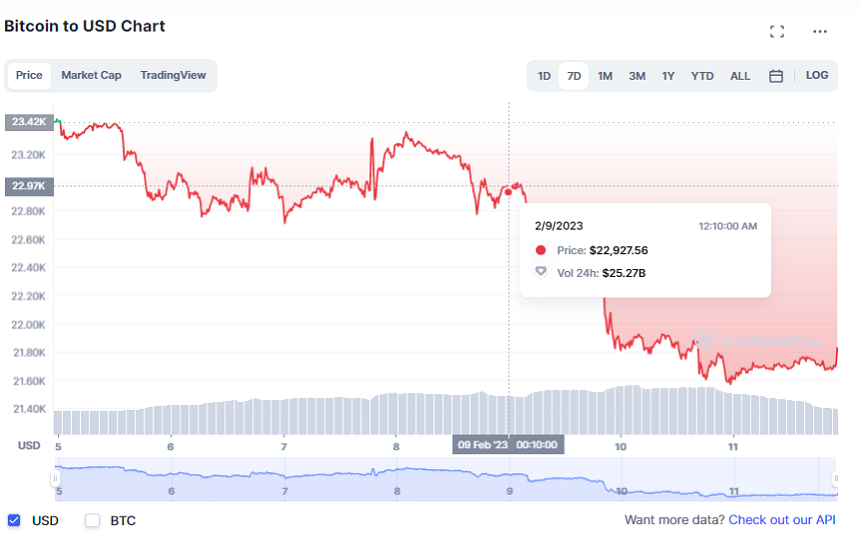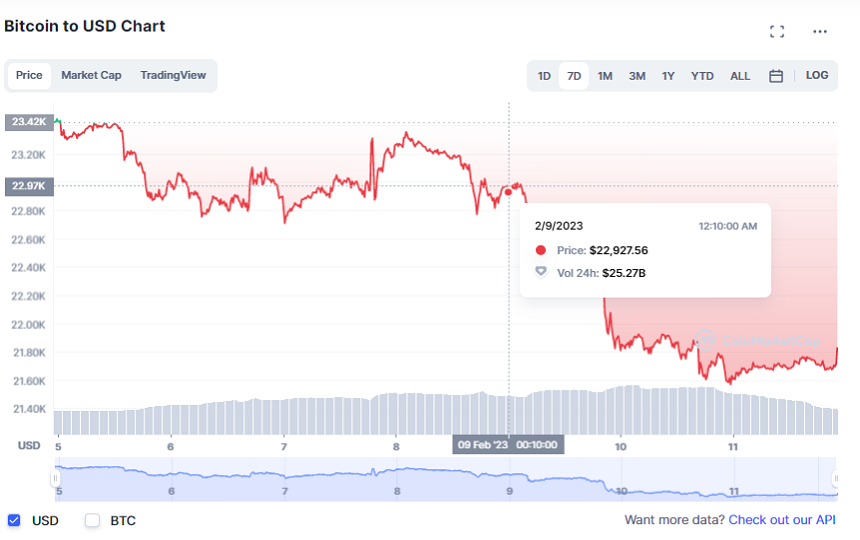 Will the "long crypto-winter" continue to freeze the market or is the long-awaited bull season around the corner?
Read also: BTC jumps above $21,000 for the first time since November 2022. Is the crypto winter now over?