After climbing up to $23,660 Wednesday, bitcoin price drops below $22,000 Thursday following news of SEC's sanctions against crypto-exchange giant Kraken. By Sunday 12 February, bitcoin price is about $21,820.
Kraken agreed to shut its U.S. cryptocurrency-staking operations in the U.S, Cointelegraph reports. This was the result of  settled charges with the U.S. Securities and Exchange Commission (SEC). Also, Kraken will pay $30 million in disgorgement, interest, and penalties. Bitcoin and the wider crypto market reacted to the news on Thursday. It cost bitcoin, as well as Ethereum, 4% loss in price.
Read also: What is bitcoin?
What goes around comes around
Before the bitcoin price dropped, Coinbase CEO Brian Armstrong had mentioned rumors about the U.S. SEC wanting to stop crypto staking in the U.S. for retail customers.
The 'rumor' turned out to be true.
The U.S. SEC made the announcement about the settled charges against Kraken Thursday:
SEC Chair Gary Gensler, emphasized that staking-as-a-service providers in the U.S. must register with SEC and be fully compliant:
"Whether it's through staking-as-a-service, lending, or other means, crypto intermediaries, when offering investment contracts in exchange for investors' tokens, need to provide the proper disclosures and safeguards required by our securities laws".
"Today's action should make clear to the marketplace that staking-as-a-service providers must register and provide full, fair and truthful disclosure and investor protection."
Read also: What is bitcoin halving and why does it matter to crypto investors?
Bitcoin may further drop to $20,000 support.  
Further bitcoin price drop is expected. Dipping by almost 70% in 2022, bitcoin price began to rise significantly since the new year. From as low as $16,000 to as high as $23,000, the bulls have been pushing bitcoin price since last month. This week, bitcoin price surged further, reaching the $24,000 region. But the bulls could not push bitcoin price to or above the $24,000 region. Bitcoin price dropped. At the time of writing, a short-term correction already occurred. This is because there was a prolonged bearish divergence between bitcoin price and the RSI indicator. (The RSI is a momentum indicator that examines the magnitude of recent price fluctuations to determine whether or not the price of a cryptocurrency is overbought or oversold.)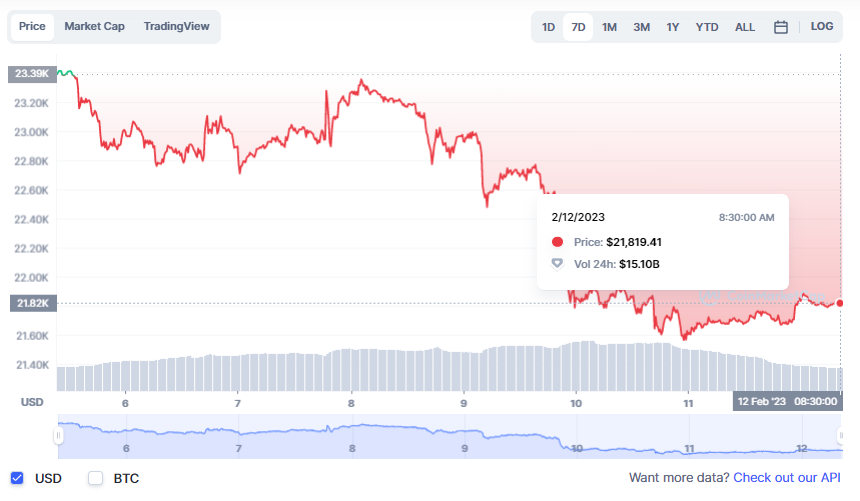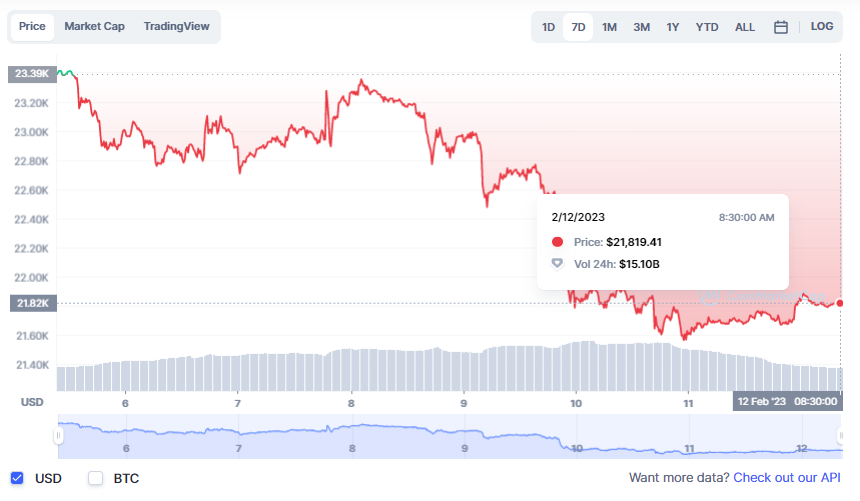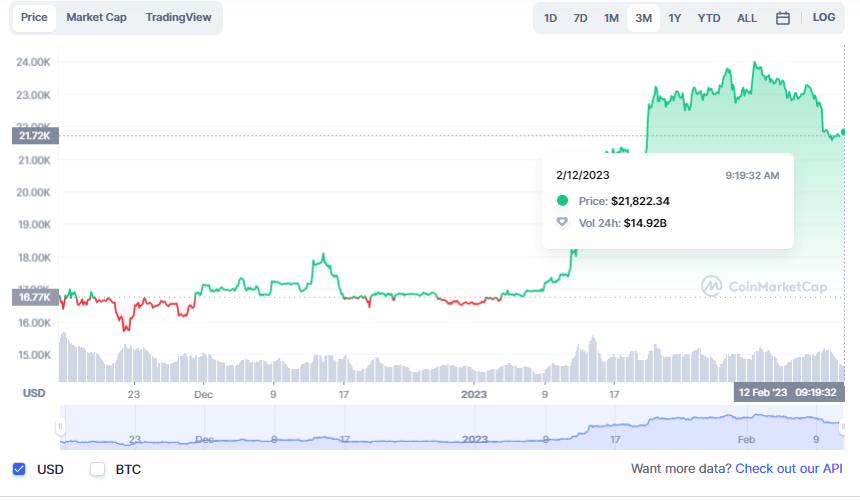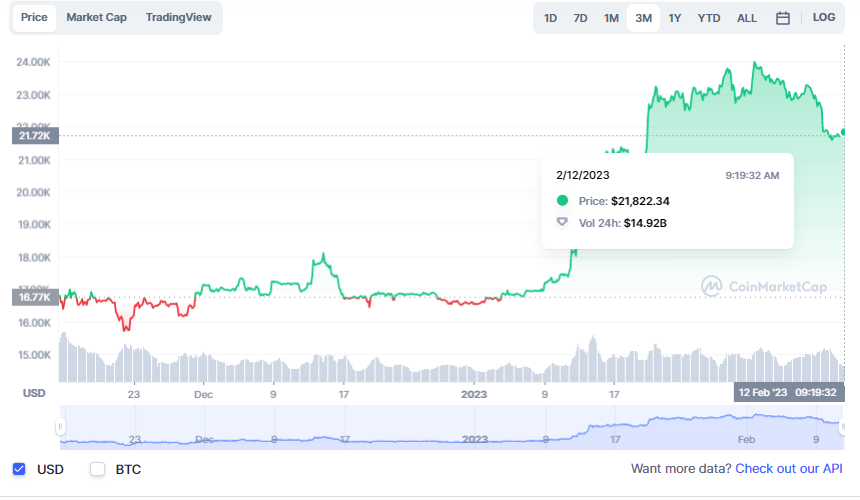 Read also: What are the top 5 technical analysis indicators to know?
Bitcoin price may further drop to $20,000 support. According to CoinGlass data, investors had over the past 7 days liquidated about $90 million in bitcoin long positions, compared to around $42 million in bitcoin short positions within the same period.
Meanwhile, bitcoin volume is down by over 37% in the last 24 hours, at the time of writing. This isn't bullish. While volume on centralized exchanges total over $15.141 billion, volume on decentralized exchanges total $2,122,300. It is not certain whether Binance's suspension of USD withdrawal and LocalBitcoin's announcement of discontinuing its bitcoin-trading services contributed to this significant drop in volume.
Read also: What is Fundamental Analysis and how is it used in the crypto market?
But bitcoin continues to dominate the crypto market at over 41% market dominance.
As traders gradually get over the U.S. SEC's action against Kraken and adjust gradually, bitcoin price is expected to start an upward trend again. Bitcoin might retest the 200-day moving average and start another rally, aiming for a possible $25,000. Not financial advice.
Read also: What will happen after all the 21 million bitcoins have been mined?
---
Featured image source: CNBC