Is the crypto winter now over?
This is the question many in the crypto community have been asking in recent weeks, as the price of bitcoin, the largest and most well-known cryptocurrency, has increased from around $16,600 to about $21,290 in just 2 weeks. This represents an increase of approximately 29%, and is one of the largest price movements for bitcoin since November 2021.
The term 'crypto winter' refers to the prolonged bear market that the crypto market has been in since late 2017. During this time, bitcoin and many other cryptocurrencies fell significantly, leading many to question the future of the industry. But with the recent bitcoin price increase, some followers are suggesting that the crypto winter may finally be coming to an end.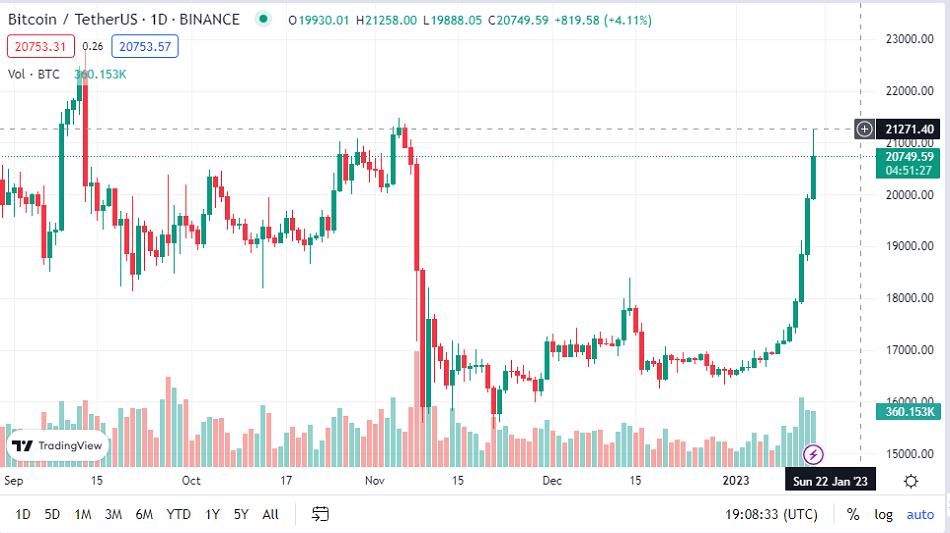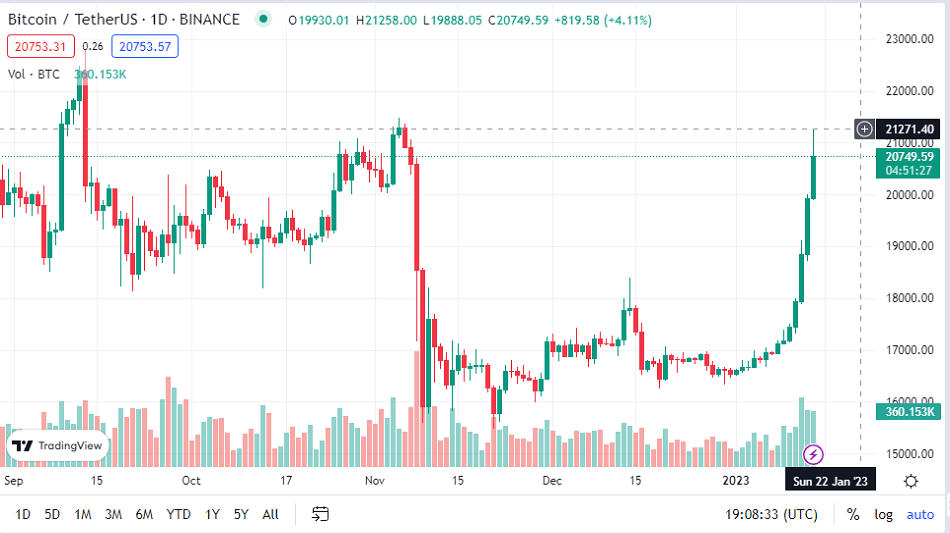 The crypto market has predominantly turned green, giving signs of new leaves sprouting out from a possibly ending winter season.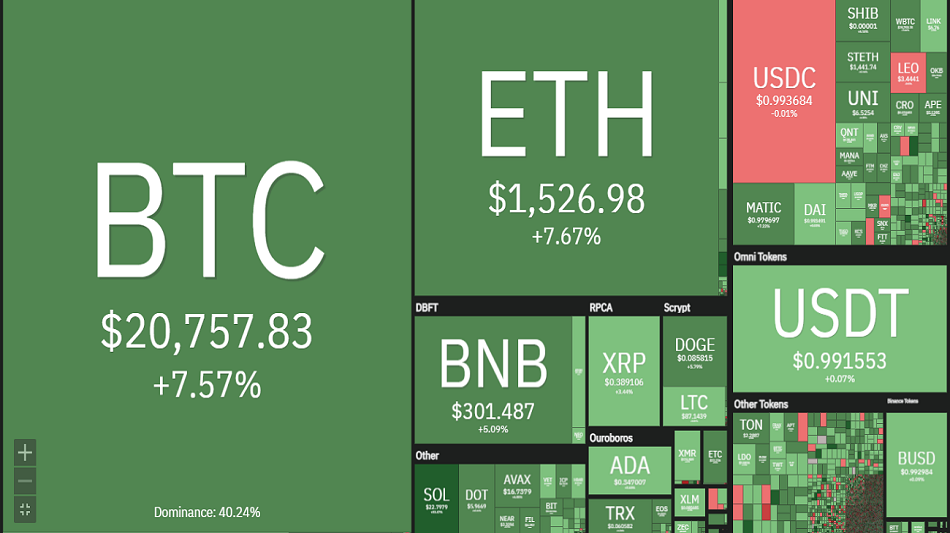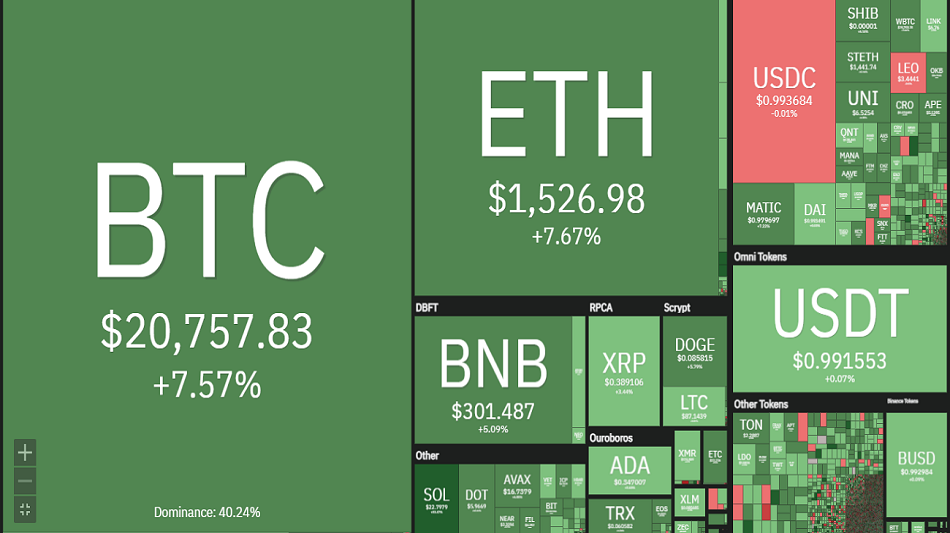 Are there any fundamentals behind bitcoin price increase or is this just a bull trap?
Josh Vazquez believes that the increasing bitcoin price is due to "incremental number of users" and "hash rate being near ATH and trending higher". He added, "Most importantly, we are approaching the next halving." But Josh also pointed out the impact the stock market is expected to continue to have on bitcoin price. "BTC is still very correlated to the stock market in the USA unfortunately. So for now BTC price will go as stocks go and we will have to see what Powell does on Feb 1st with rates. Feb 1st will make the picture a little more clear for me if this bull has potential legs or not."
Meanwhile, the next bitcoin halving is expected to occur sometime in April 2024.
As far as Josh is concerned, Bitcoin network hash rate should not be ignored:
"Hash Rate for me is a big deal because participants have options of where to deploy computing power for money. If they are still choosing BTC, that is a very good sign. I know computers increase their computing power naturally as later versions of miners come out but a lot of the infrastructure is still running on old mining equipment so it can't all be attributed to Moore's Law."
Moore's Law states that the number of transistors on a microchip doubles every two years. The law claims that we can expect the speed and capability of our computers to increase every two years because of this, yet we will pay less for them.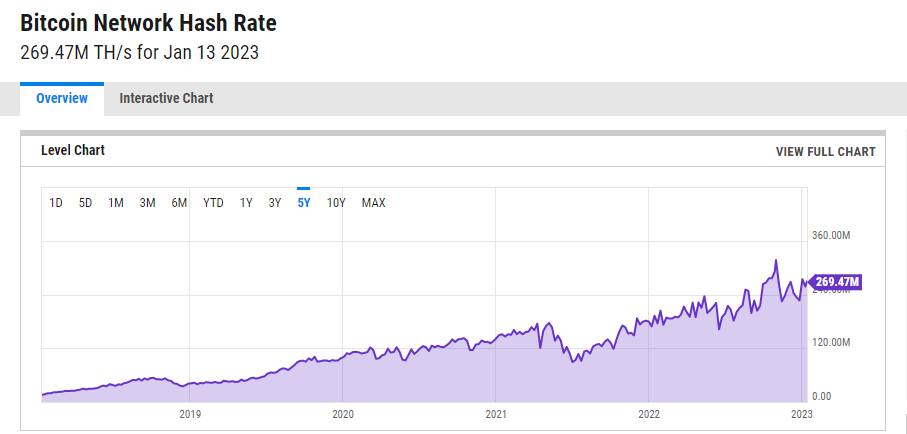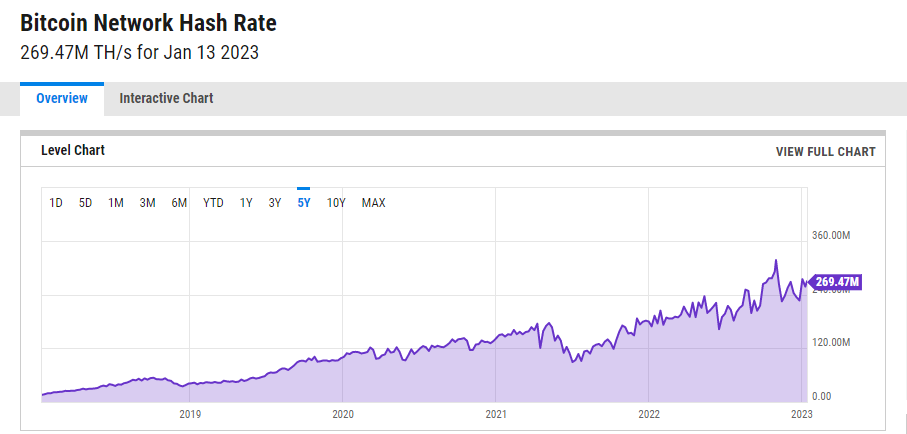 Chiagozie Iwu, who would like to be simply described as a blockchain enthusiast, doesn't think there is much to be excited about as the fundamentals haven't changed:
I don't think people should get excited just yet because the fundamentals in the crypto industry are still very weak. A lot of crypto companies are laying off staff. One of the biggest companies—both marketing and products in the USA and Canada—just laid off 40% of its staff. There are still a lot of negative perceptions of the market. So while there are some things that should make the bitcoin price rise I don't think it is the beginning of the rally. It is not clear why the bitcoin price rose. For me, I still think a lot of factors need to balance out in the industry before we may start getting excited. 
At press time, BTC price has dropped to about $20,600.
Meanwhile, crypto short liquidation cross $640 million in 24 hours as bitcoin reclaimed $21k.
Bitcoin (BTC), the dominant cryptocurrency in the global crypto market, has been experiencing a positive price momentum since the beginning of 2023. It reached a 2-month high of around $21,290 amid the market's rapid surge.
Unfortunately, short traders betting on against price rise were caught off guard as data from Coinglass show that over $722 million shorts got liquidated in the futures market in 24 hours, at the time of writing this report.

Of the over $722 million shots that got liquidated, BTC-related liquidations are shown in the chart below: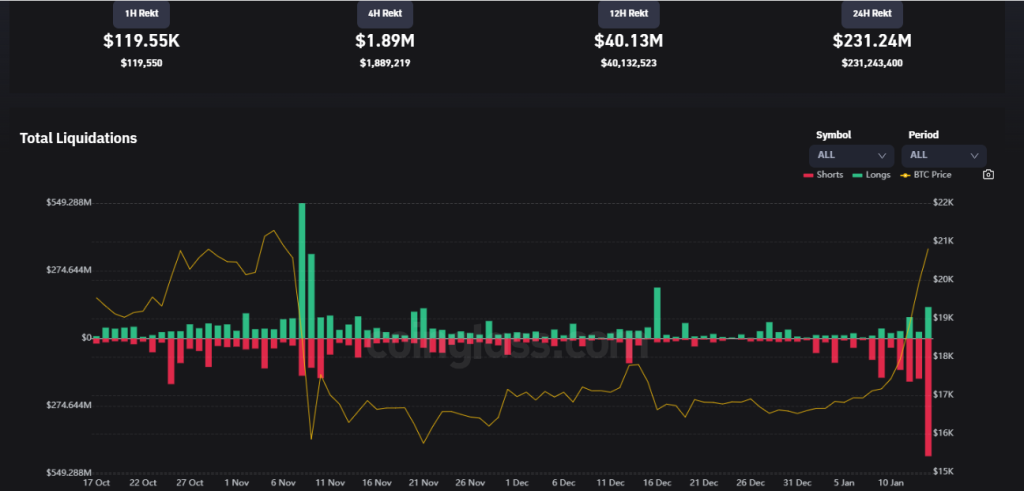 Read also: Liquidations: How do I minimize losses and avoid getting liquidated when trading futures?
Closing Thoughts
There is no formula for making absolute predictions about bitcoin or any other cryptocurrencies. Therefore, no one can say for sure if the crypto winter is over. The Crypto market is affected by a variety of factors, including investor sentiment, regulatory changes, and global economic conditions, and are therefore difficult to predict. Some investors use technical analysis, which involves studying past market data to identify patterns and make predictions about future price movements, but this method is not foolproof and can be affected by unexpected events. Finding the bottom of a market cycle is a highly uncertain and subjective process, and it is important to conduct your own research and make your own judgments. It is important to note that trying to time the market is a risky strategy and it is proven over time that it's better to have a long-term strategy.
It is also important to remember that the market is unpredictable and can change direction at any time. So it is always wise to have stop-loss and have profit strategy in place. Bitcoin and the cryptocurrency market generally are highly volatile and can fluctuate greatly in a short period of time. It is therefore important to exercise caution when investing in these assets and to only invest what you can afford to lose.