PR
by Edison Irabor
Beyond finance, the application of blockchain technology and its potentials across various sectors are becoming clearer today. Although blockchain application in the financial services sector is still at its nascent stage after over 10 years of Bitcoin, how the technology can address the problem of trust in other sectors has also become increasingly topical. The sustainability industry where the level of impact is as good as the level of trust is also now exploring blockchain technology for environmental impact.
How?
Powered by GCS FIBERS, owners of AshToken, in partnership with BlockAdop, 'Green Discovery: Blockchain Impact in the Sustainability Industry' is an event that focuses on blockchain solutions for environmental challenges. 
Venue, Date, and Time
The event comes up Friday 2nd June 2023 at the Civic Center, Victoria Island, Lagos, 5PM (WAT).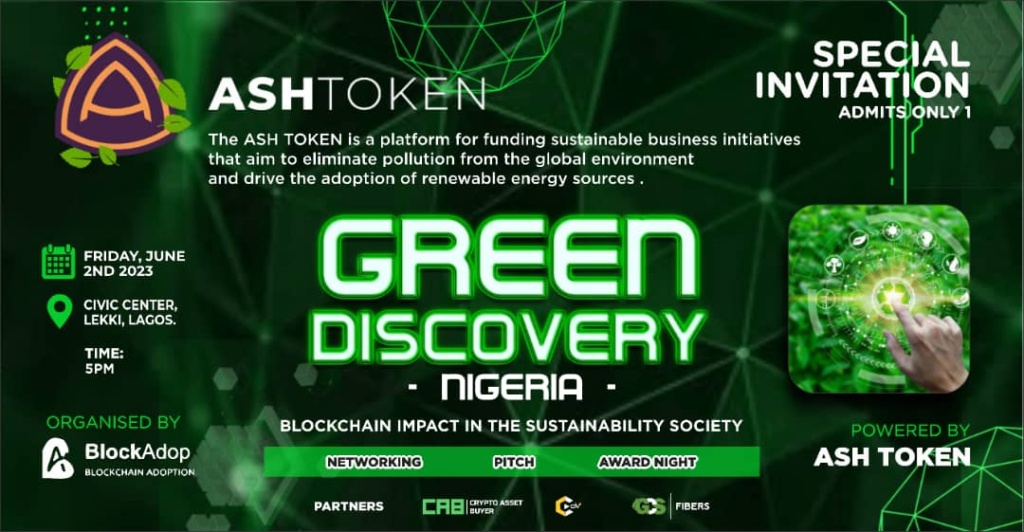 Pitch Segment
Up to five Nigeria businesses that are already providing solutions to environmental or climate change issues will be pitching their solutions at the event. The best pitch goes home with 1000 USDT.
Award Segment
Also, Blokadop would be presenting awards to few persons in the space for their contributions towards blockchain adoption in Africa.
---
About GCS Fibers
GCS Fibers promotes innovation that preserves the planet. Essentially, GCS Fibers cleans the environment of coal ash & saves trees by repurposing it into 6 different mineral fibers. Its vision is "to provide the global mineral fiber and pulp industries with quality, innovative, safe, reasonably priced, eco-friendly and value-added solutions while creating meaningful jobs within our communities". GCS wants "to be the global leader of the mineral fiber industry and the preeminent producer of mineral fiber by delivering unmatched product quality and innovation to our stakeholders through the restoration and conservation of our environment".
About Ash Token
AshToken is "a Crypto for the Planet" that enables anyone to participate in "the funding of sustainable initiatives for pollution removal from the global environment and large-scale adoption of cleaner energy solutions". It is all about adoption of renewable energy sources for a safer global environment. ASH, according to its initiators, is a governance token that empowers holders to decide how the funds raised from the token sale and transactions fees are used to fund environmental start-ups.
About BlockAdop
BlockAdop is a community that promotes blockchain adoption in Africa. It partners with both local and international brands to penetrate the African market. BlockAdop has a partnership with the Nigerian Youth Service Corps (NYSC) to train corp members on career opportunities in blockchain.
---
PR: Published by BlockAdop