The US Securities and Exchange Commission (SEC) has charged crypto firms, Genesis Global Capital, LLC and Gemini Trust Company, LLC for the unregistered offer and sale of securities to retail investors through the Gemini Earn crypto asset lending program, according to a press release published by the US SEC 7 January 2023.
According to the press release, "The SEC's complaint alleges that the Gemini Earn program constitutes an offer and sale of securities under applicable law and should have been registered with the Commission." The US SEC alleged that both Genesis and Gemini raised billions of dollars' worth of crypto assets from hundreds of thousands of investors.
"We allege that Genesis and Gemini offered unregistered securities to the public, bypassing disclosure requirements designed to protect investors," said SEC Chair Gary Gensler.
Tyler Winklevoss, Gemini Co-Founder describes the US SEC's charges against Gemini as disappointing, counterproductive, and a "manufactured parking ticket".
The Gemini Co-Founder, Tyler Winklevoss, reacted to SEC's charges via his Twitter handle on 13 January 2023: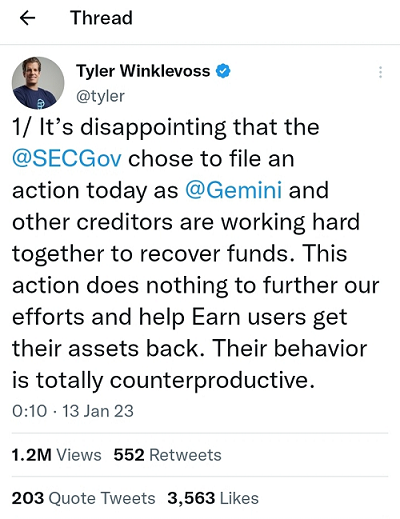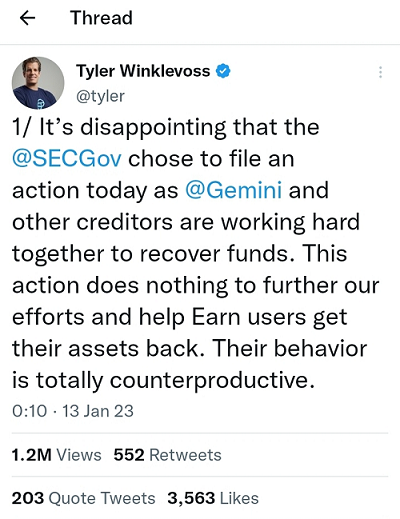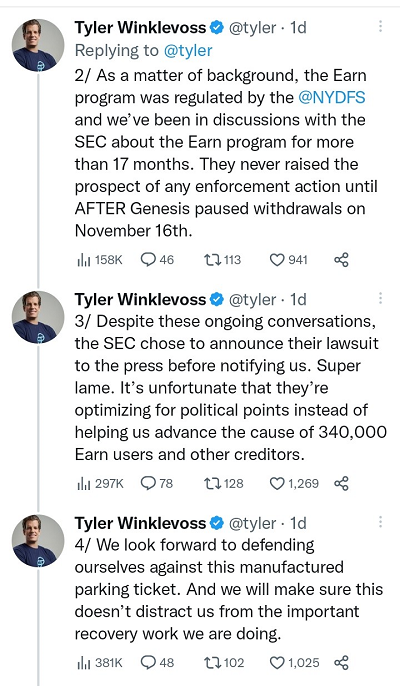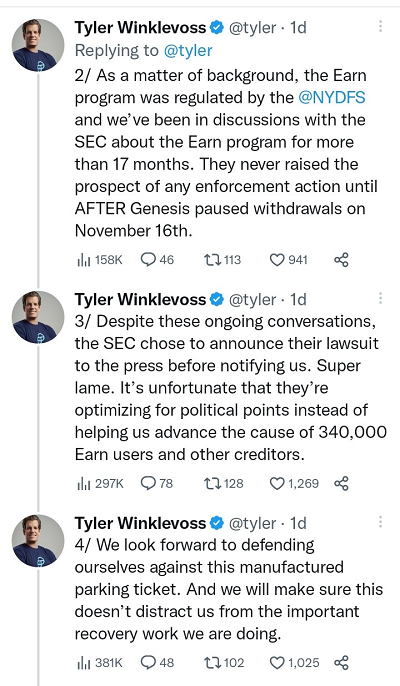 "But seriously, what is the point or urgency here? The Earn program has been shut down for almost two months."- Tyler Winklevoss, Gemini Co-Founder
Reacting to Tyler Winklevoss' tweet over the sense of urgency concerning SEC's manner of going about the charges against Gemini without, allegedly, first contacting Gemini, most people questioned Tyler Winklevoss for being insensitive towards the plight Gemini has forced on users who haven't been able to withdraw their funds since withdrawals were suspended in November 2022.
Indeed, customers must feel that there is a sense of urgency here. A tweet from Leslie shows why: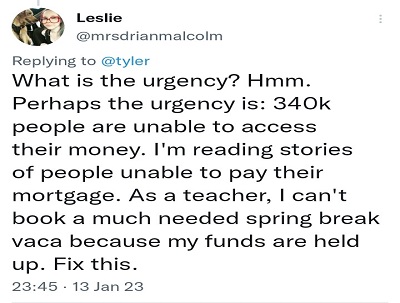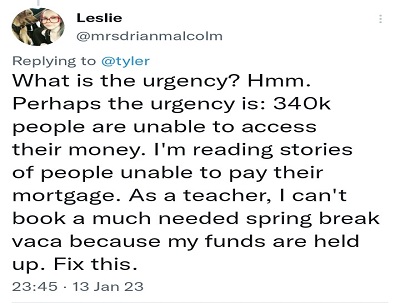 Also, Tyler Winklevoss [seemingly] understating the urgency the situation deserves may be suggesting, rightly or wrongly, that earn redemption will not be fulfilled, eventually. A tweet by one Ryan Paulin projected this concern: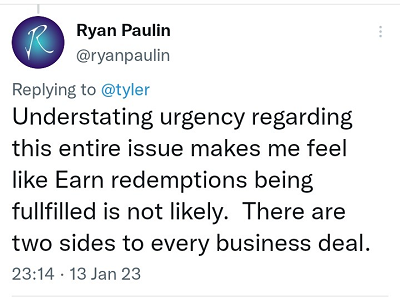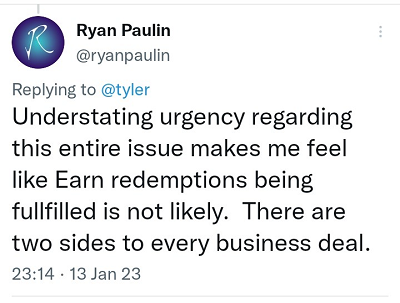 With the current and ongoing failures in the crypto market, the US SEC is reinforcing its authority over the crypto marketplace.
"Today's charges build on previous actions to make clear to the marketplace and the investing public that crypto lending platforms and other intermediaries need to comply with our time-tested securities laws. Doing so best protects investors. It promotes trust in markets. It's not optional. It's the law."
"The recent collapse of crypto asset lending programs and the suspension of Genesis' program underscore the critical need for platforms offering securities to retail investors to comply with the federal securities laws," said Gurbir S. Grewal, Director of the SEC's Division of Enforcement. "As we've seen time and again, the failure to do so denies investors the basic information they need to make informed investment decisions. Our investigations in this space are very much active and ongoing and we encourage anyone with information about this matter or other possible securities law violations to come forward, including under our Whistleblower Program if applicable."
The SEC's complaint, filed in the U.S. District Court for the Southern District of New York, charges Genesis and Gemini with violations of Sections 5(a) and 5(c) of the Securities Act of 1933. The complaint seeks permanent injunctive relief, disgorgement of ill-gotten gains plus prejudgment interest, and civil penalties.
And the US SEC is not through yet. It says "investigations into other securities law violations and into other entities and persons relating to the alleged misconduct are ongoing".
Likely impact on the crypto market and the crypto industry
The recent FTX implosion, and the implosions before it, seriously shook investor confidence in the crypto industry, especially with regard to storing funds on centralized crypto exchanges. Just as FTX implosion took a lot of money down the drain with it, a lot of money, amounting to billions of dollars, have also been withdrawn from the crypto market since the last quarter of 2022. Even crypto-focused banks, including Signature Bank and Silvergate Bank, felt the impact, big time.
Read also: Signature Bank's stock SBNY downgraded from 'buy' to 'hold' as crypto deposits shrink by $8billion; stock price plunges by 67% YoY.
Read also: FTX Collapse: Silvergate, crypto-focused bank, left scrambling after $8.1 billion bank run; stock plummets by 45%
Currently, the crypto industry's multiple issues may worsen the current state of FUD. First, with the US SEC charging Genesis and Gemini, two subsidiaries of Digital Currency Group (DCG), one of the biggest conglomerates in the global crypto economy, the already crumbling public confidence in the crypto economy may be shaken further. Add to DCG's issues the concerns over Binance's proof of reserves and the imminent crypto legislations to be introduced across various jurisdictions, it is expected that these developments will negatively impact on crypto-market activities. It may get worse in the crypto market before it gets better.
Read also: Crypto conglomerate, Digital Currency Group, under investigation by US authorities. Crypto investors concerned.