Introduction
Dogecoin founder, Billy Markus, has spoken out against 'meme coins' and their proliferation in the crypto market.
According to Markus, meme coins are "made by people trying to get rich off of other people trying to get rich".
Markus appears to have become frustrated by the flood of meme coin spammers and shillers that was drowning him on Twitter. Recounting how he originally started DOGE in 2014 as a meme that truly joked about "idiotic coins" in the crypto market, Markus wondered how on earth meme coins are not memes anymore. DOGE was a satire—a humor, irony, exaggeration, or ridicule to expose and criticize people's stupidity or vices in the games some coin creators often play to make money through pumps and dumps. With the Twitter name, Shibetoshi Nakamoto, Markus tweeted as follows:
Well, it is clear that millions of DOGE adopters either missed the satire or don't mind the satire at all as long as it makes them money! Of thousands of coins out there today, DOGE is in the top 10!
Markus doesn't think that the spam advertising, lying about team members and partners of the project, making ridiculous promises, and desperately trying to get Elon Musk's attention for promotion is "clever or amusing".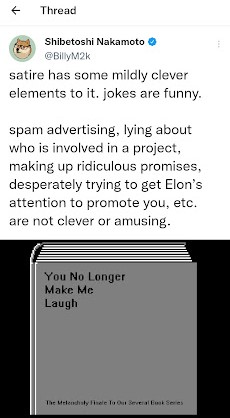 The irony is that meme-coin spammers continued to flood Marcus's thread, advertising all kinds of meme coins with promises of "to the moon" someday. 
While DOGE may not exactly shoot to the moon someday, the fact that Elon Musk and Mark Cuban endorse and back the pioneer meme coin gives many crypto investors hope that DOGE would provide good return on investment in 2022.
Top 5 meme coins by market capitalization today are DOGE, Shiba Inu, Dogelon Mars, MonaCoin and Samoyedcoin. The current total market capitalization of meme coins is over $30 billion and a trading volume of over $1.6 billion, up by over 7% after suffering a Russian invasion last week. 
Although Africans know how to catch fun, memes did not appear to be what African blockchain & crypto creators were interested in until Wakanda Inu. As described by its creators, Wakanda Inu is "a community meme project forged from the deep and warm consciousness of humanity". Currently, Wakanda Inu is down by 92% from an all-time high (ATH) of $0.0000004689 on 11 November 2021. But if purchased at the time of launch, the returns of investment today would be approximately 115.69%. 
Whether meme coins can afford to remain a joke for long or will eventually accumulate value along the way remains to be seen. For now, Marcus's belief that meme coins are "made by people trying to get rich off of other people trying to get rich" appears to be a strong statement, until proven otherwise by the meme coin community.