Coinbase, U.S. cryptocurrency exchange, has been fined €3.3 million euros ($3.6 million) by De Nederlandsche Bank (DNB) for offering cryptocurrency services in the Netherlands without registration until August 2022. 
Since May 2020, Netherland authorities require cryptocurrency companies operating in the country to register as money transmitters under the country's anti-money laundering rules. According to DNB, the central bank, Coinbase violated the rules between November 2020 and August 2022.
Consequently, DNB has fined Coinbase heavily, considering that Coinbase is a big fish. DNB said that the fine was increased due to Coinbase's size as one of the largest cryptocurrency exchanges globally and with a "significant number of customers in the Netherlands". Also, the penalty was increased from $2.18 million to $3.6 due to the severity of the noncompliance, said DNB.
Read also: What are the top 5 centralized crypto exchanges you should know?
Coinbase may appeal the DNB fine; COIN price impacted.
Unhappy with the fine, Coinbase has disagreed with the DNB's decision. According to a Coinbase spokesperson, Coinbase operating without registration was "based on the time it took for Coinbase to obtain our registration in the Netherlands" and "includes no criticism of [Coinbase's] actual services". The spokesperson added that Coinbase "should not be penalized for playing by the rules and engaging in this process".
Coinbase is considering an appeal. The appeal window is open until March 2.
It is not the first time Coinbase has been fined by regulators and authorities. Recently, New York's Department of Financial Services (DFS) caught Coinbase using a "simple check-the-box" as its customer onboarding requirement without sufficiently carrying out background checks. Coinbase Global Inc eventually settled with DFS early this month, costing the cryptocurrency exchange a $100-million settlement.
Coinbase stock (COIN) price may have reacted to the news. COIN price which was $56.06 at 9:30 Thursday is now trading at $52.37 at the time of writing.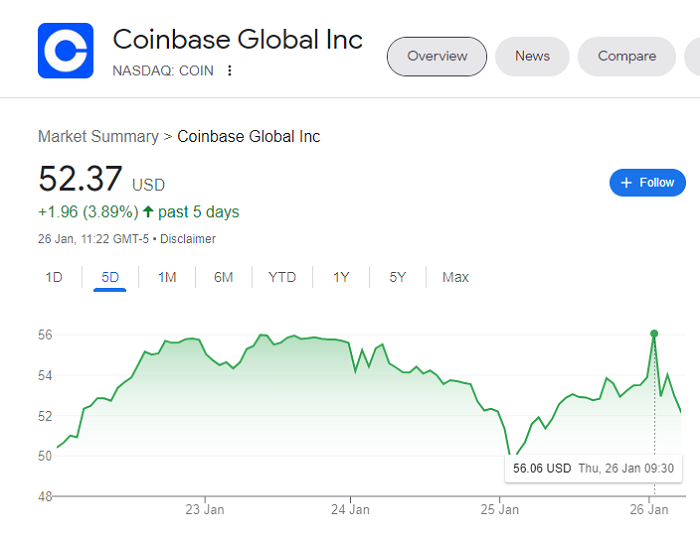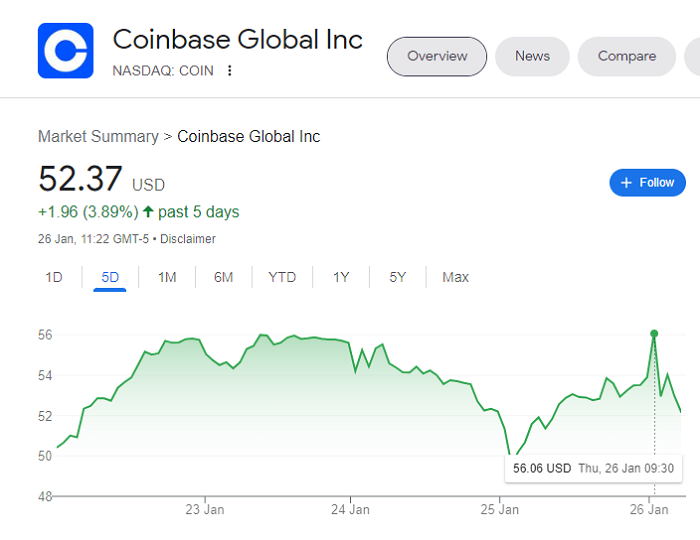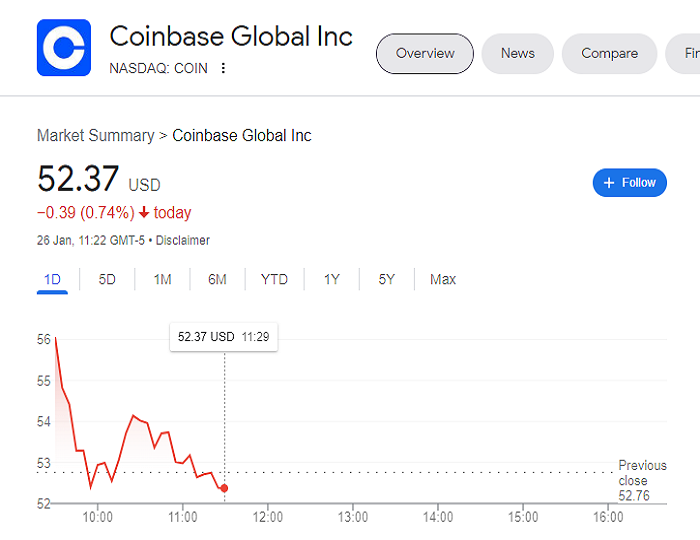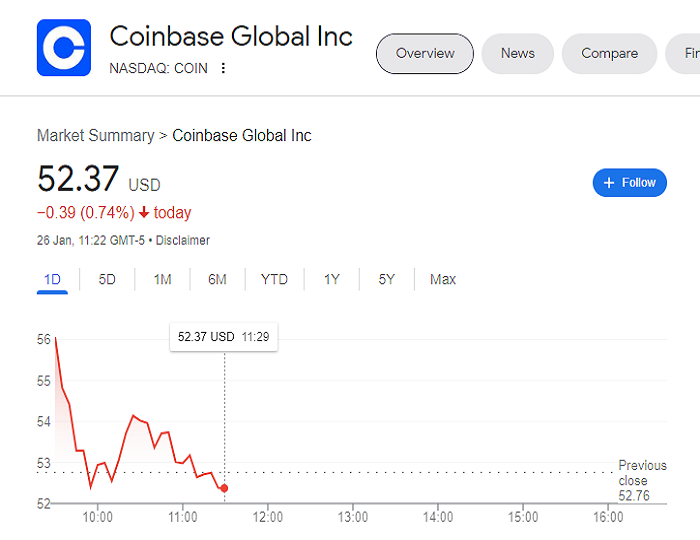 Since Coinbase is being fined for a past violation and not an ongoing one, it is not expected that DNB's action will have further (serious) impact on the COIN price. But if Coinbase eventually pays the fine, Coinbase shareholders' reactions may end up impacting COIN price.
Read also: What is cryptocurrency?
Apart from Coinbase, Binance once got the hammer, and KuCoin recently sniffed it.
Coinbase rival Binance was also fined by DNB in July 2022 for operating without registration. 
In December 2022, the Dutch central bank warned the cryptocurrency exchange KuCoin to stop operating in the Netherlands without a registration. According to DNB, KuCoin operates in the Netherlands without legal registration but it is registered as MEK Global Limited (MGL) in the Seychelles. DNB considered this practice a violation of the Anti-Money Laundering and Terrorist Financing Act and is illegally offering exchange services between virtual currencies and fiat currencies and offering custodial wallets," the bank said. Kucoin launched in the Netherlands in November 2019.