Ether (ETH) hits another new all-time high price on Wednesday when it went over $4,660. It has been an upward and forward ride for ETH after hitting several new all-time highs in recent days, after it set a new record of over $4450 for the first time in months on Friday 29 October. Data from trading view shows that Ether, the second cryptocurrency by market capitalization has over 19.7 percent of the entire crypto market share.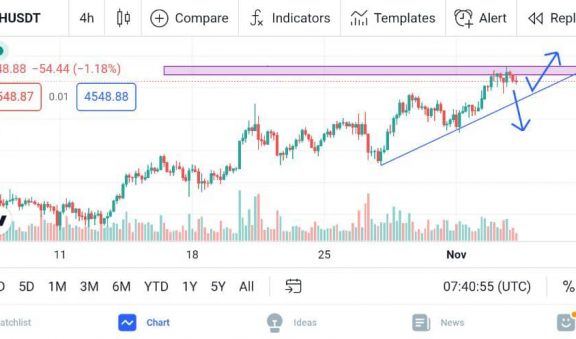 Crypto market cap hits $2.8 trillion
The combined market cap of over 10,000 cryptocurrencies in the world has reached a new all-time high of over $2.8 trillion according to crypto tracker CoinGecko.
The crypto market has grown over 600 per cent from $397 billion as of November 3, 2020, to $2.8 trillion. This clearly shows how adoption of Crypto is increasing tremendously. The total crypto market capitalization is now double that of silver's which is about $1.4 trillion, according to the website companiesmarketcap.com. The crypto market cap also exceeds the valuation of the shares of Apple, the world's largest publicly traded company, at $2.5 trillion.
Acording to Coinmarketcap, Crypto market volume over the last 24 hours is $135.42B. This is an increase of 1.14% increase. DeFi currently has a total volume of $18.88B, amounting to 13.94% of the total crypto market 24-hour volume. Stablecoin volume is currently $103.61B, which is 76.51% of the total crypto market 24-hour volume. With how things stand currently, Bitcoin's dominance is currently 42.95%.
ETH Analysis
A break above the resistance zone at $4,600 may possibly lead to a fresh rally towards $5,000. If ETH fails to climb above the $4,600 resistance level, it will likely start a downside correction to face the support at $4,500 level.