Crypto assets are expected to outperform traditional asset classes in 2023, according to CryptoCompare's latest research report, 2023 Outlook: New Year, New Narratives.
Last year was reportedly the second worst performing year in the 13-year history of bitcoin. Other digital assets did not fare better either, no thanks to multiple collapses of some of the largest entities in the sector, particularly FTX. Similar to crypto investors, investors in equities and other traditional asset classes also experienced double-digit losses in 2022. Even bonds that investors traditionally rely on as hedge against falls in equity prices also experienced double-digit losses.
As captured in the executive summary of the report:
Figure 1 outlines the annual performance of a wide range of assets, including bitcoin and Ether, over the last 5 years: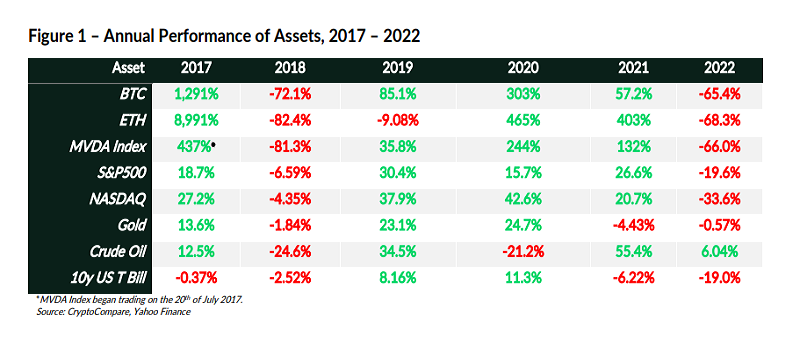 Crypto-assets outlook expected to change in 2023, outperforming traditional assets
Crypto-asset losses were largely due to last year's adverse macroeconomic conditions. According to CryptoCompare's outlook, this is expected to change in the second quarter of 2023.
First, it is expected that market participants would begin to shift to a risk-on approach as macroeconomic conditions begin to improve in the second half of 2023. In contrast, elevated inflation and interest rates are expected to continue to dampen performance of traditional assets classes in 2023. Interest rates are expected to "peak this year and inflation to significantly come down, in line with its declining trend over the last 6 months – which would suggest a return to 2.0% inflation by the end of 2023."
Second, compared to traditional assets classes, crypto assets are "deeper into [their] downward cycle than equities or other asset classes which so far have seemed unaffected by the adverse market conditions", thus crypto assets prices are more likely to increase more, compared to traditional assets.
Though the CryptoCompare report acknowledges that "cryptoassets' price action will also be somewhat suppressed", the point is that the crypto market is not likely to get worse than it got in 2022. In other words, the combined blows dealt on crypto assets prices by major collapses in the space in 2022 plus biting macroeconomic conditions were deadly, but it can only get better for crypto assets in 2023 since macroeconomic conditions are expected to improve, according to CryptoCompare's outlook.
Since the new year, bitcoin and altcoins have started showing signs of recovery.
Read also: BTC jumps above $21,000 for the first time since November 2022. Is the crypto winter now over?
The fear and greed indices in the traditional assets market and crypto assets market show sentiments of confidence is gradually building up.
The Fear and Greed Index in both the traditional assets market and the crypto market are out of the fear zone.
While sentiments in the stock market is currently clocking greed, sentiments in the crypto market has become neutral. This is expected to gradually move towards greed in the coming weeks as confidence gradually replaces fear in the crypto market.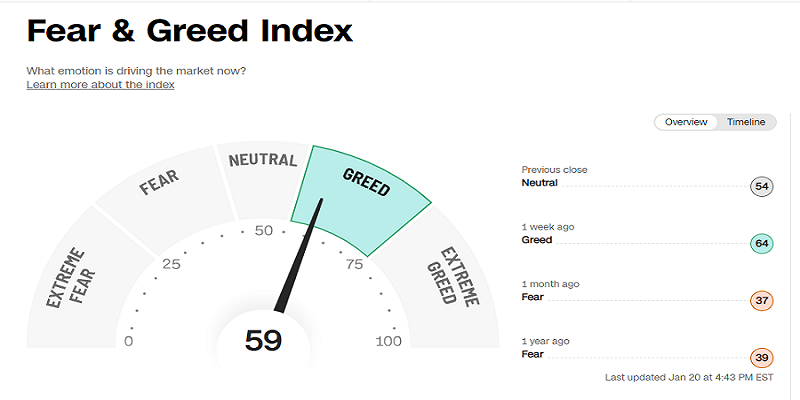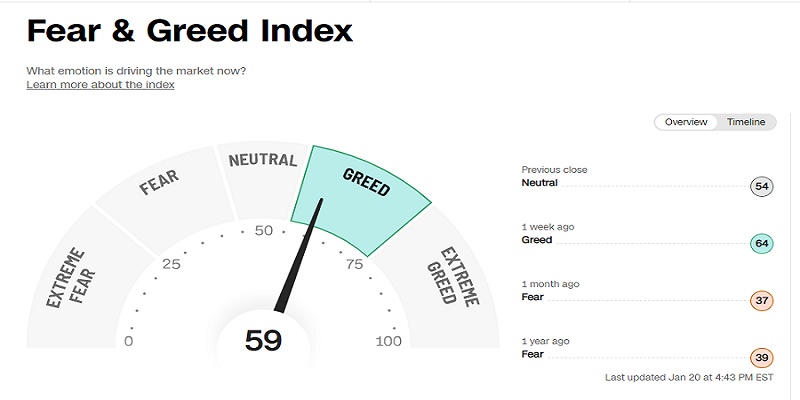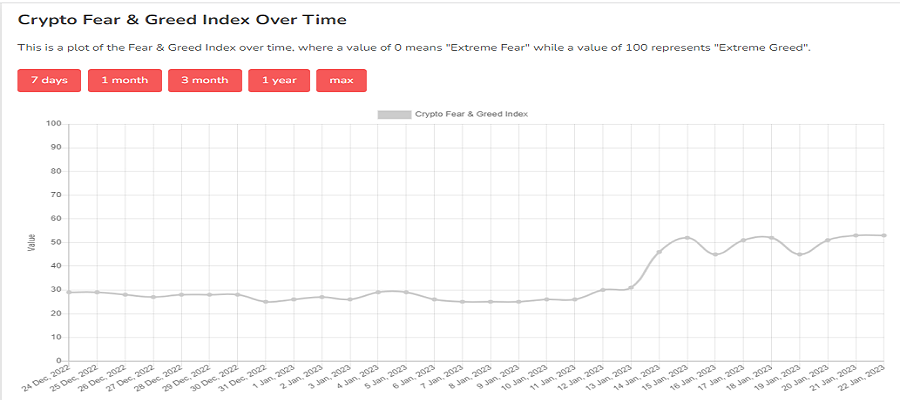 Read also: What do 'bull' and 'bear' markets mean and how do you identify them?
The improved macroeconomic performance projected by the CryptoCompare report is not expected until the second quarter of the year. Therefore, it may not be a very good idea for crypto asset investors to get greedy yet.
Apart from macroeconomic factors, regulations and regulatory activities targeted at bringing the digital asset industry under control are expected to bring relative stability to the market through improved accountability, transparency, and market integrity. But intensive enforcements by regulators, especially in the United States, may likely have negative impacts on price actions.
CryptoCompare is a Financial Conduct Authority (FCA) authorized benchmark administrator and a global leader in digital asset data for institutional and retail investors. Its latest research report, 2023 Outlook: New Year, New Narratives assesses the macroeconomic and digital asset environment of 2022 while projecting the trends the digital assets industry should expect in 2023.