PR
Crypto Ladies League is set to host one of Africa's biggest virtual bootcamps to promote a whole new marketing approach leveraging blockchain technology and Web3.
As the digital ecosystem continues to evolve, emerging technologies are changing the way we do things. Digital marketing is experiencing a different turn with Web3 and both corporate and individual brands are racing to hire individuals with Web3 marketing skills.
Web3 marketing has a lot of promising prospects that can revolutionize marketing, sales strategies, and how businesses run.
Hence, it has become a darling for digital marketers seeking ways to explore more novel marketing approaches.
From leveraging blockchain and decentralization to advertise, sell, and promote products and services, marketing is primed to create more transparent and secure marketing campaigns, while curating more exciting and innovative ways to engage with customers!
Web3 marketing also puts user empowerment and data ownership at the core of its concept, giving users control over their personal information, and creating a more personalized and user-centric marketing experience.
The Web3 Marketing Bootcamp
Themed "The Web3 Marketing Bootcamp ", the training is designed to also fuel sustainable careers in Web3 marketing with foolproof educational resources and guides. Participants will be trained in Web3 marketing skills, establish a lucrative career, and get positioned for sterling opportunities.
Scheduled to be held from September 6th – 29th, 2023, the 4-week training will introduce ladies in blockchain to digital & Web3 marketing, Brand Marketing in the Web3 ecosystem, sales strategies, SEO marketing, etc.
Learn compelling marketing skills for a lucrative web3 career. Register for the Web3 Marketing Bootcamp here bit.ly/MIWB23.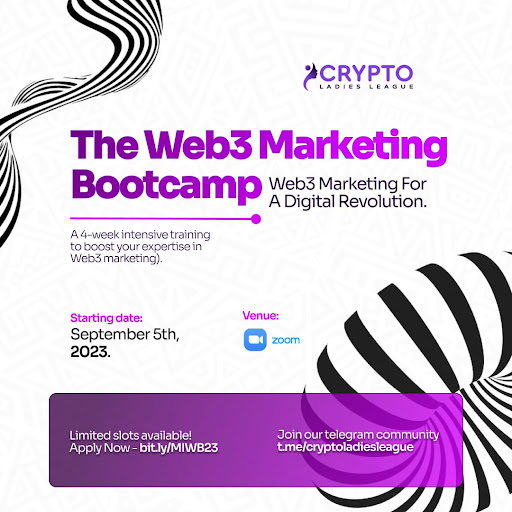 About The Crypto Ladies League
The Crypto Ladies League is a community of Professional Women in Web3, established in March 2021 through an initiative by Obinna Iwuno, Founder of Africa's leading blockchain community – Crypto Bootcamp. And is currently led by Joy Joe; a passionate advocate for women's inclusion and development in the sector as Community Manager, and Joan Umeano, a administrative expert and Tech advocate as Director.
The Community's primary objective is to increase the involvement & participation of women in the crypto and blockchain industries, equipping them with the relevant skills & knowledge to work, innovate, and empower them with opportunities to build.
Follow Our Social Channels:
Twitter: @cryptoladiesL_
LinkedIn:@Cryptoladiesleague
Instagram:@Cryptoladiesleague
Facebook :@Cryptoladiesleague
Join our Telegram Community: