In what appears to be a Central Bank of Nigeria (CBN) clampdown persons engaging in cryptocurrency trading in Nigeria, banks in the country have been blocking, closing, and/or freezing the bank accounts of many persons suspected to be using their their accounts to trade cryptocurrency.
Amongst the category of affected cryptocurrency traders are over-the-counter (OTC) cryptocurrency traders. A number of these OTC traders are groaning as they watch their bank accounts blocked, closed, or frozen by banks in Nigeria under the direction of the CBN. 
In some cases, the CBN directed banks in Nigeria to close the accounts of persons the CBN identified as "engaging in cryptocurrency trading in contravention of CBN Circular". This is contained in a 'Letter to All Banks' dated 3 November 2021 (BSD/DIR/PUB/LAB/14/008). The CBN letter which has been flying on social media since Thursday 4 November 2021 reads as follows:
"You are hereby directed to close the accounts of the underlisted bank customers and place the funds in the accounts in suspense accounts for engaging in cryptocurrency trading in contravention of CBN Circular BSD/DIR/PUB/014/001 dated February 5, 2021."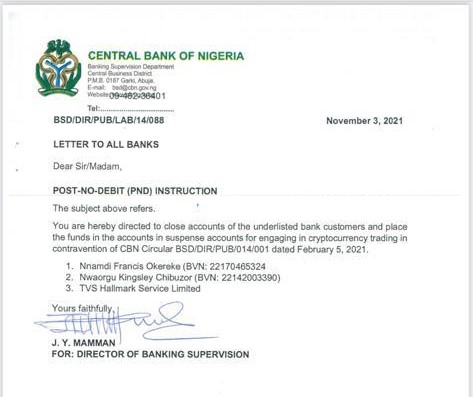 In a similar "Letter to all Banks" dated 4 November 2021 (BSD/DIR/PUB/LAB/14/089), the CBN directed directed all banks "to close all bank accounts of the underlisted bank customers for engaging in cryptocurrency trading in contravention of CBN Circular BSD/DIR/PUB/014/001 dated February 5, 2021". Noticeably, it did not include that the banks "place the funds in the accounts in suspense accounts" as the initial one specified. Seven companies were listed in the letter.
Both letters are signed by J.A. Mamman, Director of Banking Supervision.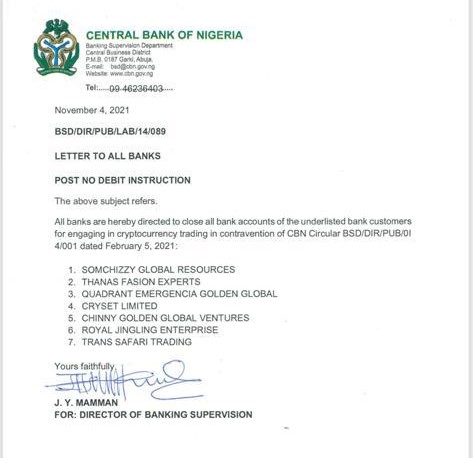 Banks in Nigeria, as directed by CBN, block, close, and/or freeze customers' accounts over suspicion of using their bank accounts for cryptocurrency trading.
Peer-to-peer (p2p) cryptocurrency traders are now under attack by banks in Nigeria as affected bank-account owners are grown and protest against what they consider an illegality by the CBN and all Nigerian banks.
OTC traders either trade cryptocurrencies on peer-to-peer platforms such as Binance P2P, Paxful, and other online marketplaces. Others OTC traders generally use internet communication via various online media to complete transactions without any central authority. Apart from OTC traders who involve in cryptocurrency trading as a business, there are millions of everyday Nigerians who also use p2p platforms for the purpose of buying cryptocurrencies or crypto assets for investment purposes, pay for products and services, and carry out borderless transactions.  This is why it is referred to as p2p, enabling the direct exchange of cryptocurrencies or crypto assets between individual parties.
In one of the memos that took a walk to social media this week, one of the banks in Nigeria, namely FCMB, contains an instruction on compliance advisory on cryptocurrency dealing/transactions. The memo clearly reiterates that the Central Bank of Nigeria (CBN) is strictly monitoring non-compliance with the directive on the closure of all accounts involved in cryptocurrency for high impact regulatory sanction. 
The bank advised that all its staff should "identify persons/entities transacting in or operating cryptocurrency exchanges within their systems and ensure that such accounts are closed immediately."
The bank warned that all staff who failed to cooperate will be sanctioned.
Before proceeding to identify what it described as "red flags for identifying cryptocurrency transactions", the bank emphasized that all staff are "expected  to be involved in the monitoring of accounts, transactions and customers in order to make the Bank safe and protected from the activities of criminals, organized gangs, money launderers and terrorist financiers."
Following below is a list of 20 'red flags' identified by the bank in the same memo to all its staff which many Nigerians, including affected bank customers consider unduly discriminatory, unjustifiable in a democratic state, and unconstitutional:  
Accounts  receiving high daily inflows from a huge number of multiple payees from all over the country.
Account receives significant inflow and within the same period (daily/weekly), this is followed by outflows to multiple beneficiaries.
Incoming transactions from many unrelated wallets in relatively small amounts (accumulation of funds) with subsequent transfer to another wallet.
Transactions involving the use of multiple accounts, with no logical business explanation;
[Unclear]
[Unclear]
An account operating as a bureau de change without a central BANK of Nigeria (CBN) licence/registration.
A customer is known via publicly available information for cryptocurrency dealing and related transactions.
Bulk of a customer's source of wealth is derived from investments in cryptocurrency.
Customer's memorandum of association contains virtual/cryptocurrency dealing.
Corporate/Fintech accounts receiving multiple daily transactions without a regulatory payment licence.
Customers whose account transactions are conducted contrary to the expected profile of the business or individual.
Frequent large transfers are completed that exceed the norm for a small business operation.
Business registered as computer based, fintech or software development company but operating as a cash intensive entity.
Customers into international trade transactions who receive/settle payments with cryptocurrencies.
A cooperative society conducting huge electronic transactions not consistent with its business profile with funds received from multiple inflows/deposits.
An account with no charges with high volume transactions.
Personal accounts used for business purposes.
Inflows from Microfinance Banks and Fintech accounts to individual accounts.
Accounts such [as] SB12B-Flexx Youth Savings Account, SB110-Premium Savings Account, SB119-Business Savings Account, SB101-Classic SAVINGS Account, OD231-FCMB Business Account, OD269-Personal Business Account and OD205-Corporate Current Account, with high volume transactions operated by individuals between the age brackets of 18-30 years as signatories.
For each red flag identified above, the staff responsible for monitoring the affected account must either "engage customer further and inform compliance" or "escalate to compliance department".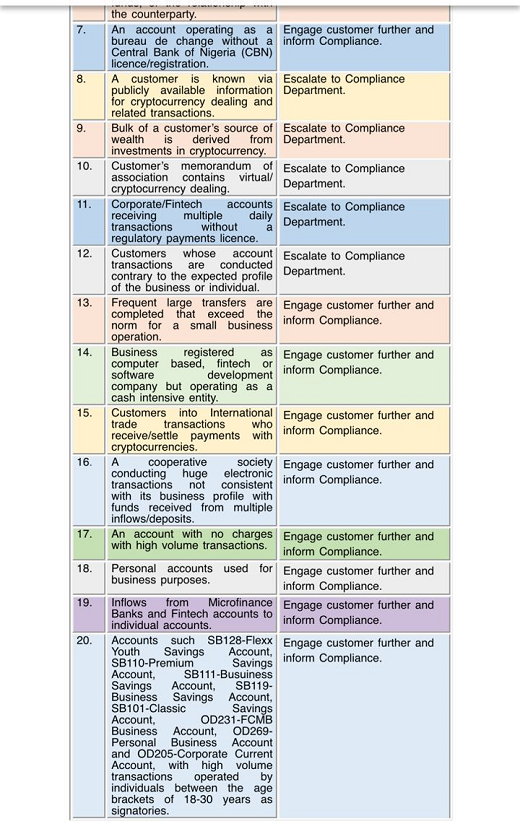 Angry,  broken, disappointed, and traumatized, a number of affected bank customers have sworn to seek legal redress from the court of law, "the last hope of the common man", they say. Some of them accused their banks of conniving with CBN to violate their fundamental rights as well as economic rights under the Nigerian Constitution. A few stakeholders in Nigeria's blockchain & crypto industry also expressed their concerns about CBN's latest action. Some of the reactions out there are captured below:
"What is wrong with us in this country?
Every day, millions of Nigerians fall for all manner of scam in form of ponzi with the CBN doing nothing about it.
It's genuine commodity traders they want to go after.
How difficult is it to understand?"- Dryt
"This is slavery.
New Nigeria via Twitter:
Can the central bank be taken to court already? What is all this nonsense the apc government imposing on Nigerians without passing through the National Assembly 😡 #nigerianssaynotocentralbankdictatorship"- Azeez
"Asiwaju Obasanjo:
Iru ọrọ weyrey wò leleyi, It's about time we fight this crypto ban.
Real fight to finish this time
"- Asiwaju Obasanjo
"Jesus!!!
Wetin we do this country?"- Cherish
"Very very bad 💔💔💔
Anything to annihilate the youths
"- Dutchi:
"Very very bad 💔💔💔
Anything to annihilate the youths
"- Dutchi:
"It's time to take this to court
We can't also sit back and allow this happen
What rubbish is this ?
What's the essence of banking
Well Nigerians banks NGMI"- Chris
"Arrant nonsense!! It's unfortunate these banks are clinged to the past 😑"- Fazic:
"Arrant nonsense!! It's unfortunate these banks are clinged to the past 😑 There's this adage in Yoruba that says, t'óobá ti je dodo, okò níle s'ododo ( if you have eaten plantain, you won't be able to speak the truth). @nassnigeria should speak up on this matter. Because @cenbank cannot make law on herself
"- Fazic:
"Is it a crime for Citizens to desire wealth by trading or investing in what is not illegal or trying to preserve their wealth via other asset class not in the law book yet …. The more bank accounts you block, the more the resistance. How many accounts are you going to block. How many businesses will you render useless and families affected in a short while. The money being made from cryptocurrency trading and investing goes to stamp duties and bank charges, the tailor, the market woman, the landlord, the car sellers, the school fees, the pampers and the urgent 2k requests."- Ezekiel
"Because we didn't adopt their useless E-naira."- WealthyCrowns
"This is a country that never wants its own citizen to grow . What do you expect. This is absolutely fraud
."- NollyLee
"CBN has seen how people are been freed from poverty and the cash inflow to banks and CBN had reduced drastically, making it difficult for the MDs to fly private jets and also making difficult for the government to borrow endlessly from CBN because people now invest in crypto assets.- AbbeyFX
"Seems you are yet to get it that the explosion of adoption of cryptocurrencies by our generation is beyond remittance and not competing against the eNaira."- Marvel
"Seems you are yet to get it that the explosion of adoption of cryptocurrencies by our generation is beyond remittance and not competing against the eNaira."- Marvel
"Regulators putting banks in panic mode. The banks are going to be exposed to lots of legal issues and pay damages. The court ruling is in favor of the customer. This is worrisome."- Tunde
How long will the CBN ignore the call for knowledge-based regulation, not ban, as advised by the Nigeria Vice President?
Since the CBN issued its 5 February 2021 directive on cryptocurrency and defended it in its public statement of 7 February, CBN appears to have effectively ignored all calls for a better regulatory approach to cryptocurrencies in Nigeria. Even at the joint session of Senate committees set up to look into the CBN action on cryptocurrency to afford all stakeholders the opportunity to speak on the issue, only Godwin Emefiele, the CBN Governor, has been heard till date. And the CBN Governor's position was loud and clear: "Cryptocurrency has no place in our monetary system at this time, and cryptocurrency transactions should not be carried out through the Nigerian banking system".
But the Nigeria Vice President, Prof. Yemi Osinbajo, speaking at a CBN Bankers Committee Economic Summit in February, told the CBN to regulate cryptocurrency transactions in the country rather than introducing an outright ban: "Rather than adopt a policy that prohibits cryptocurrency operations in the Nigerian banking sector, we must act with knowledge and not fear and develop a robust regulatory regime that is thoughtful and knowledge-based". 
About 9 months later, not only has the cryptocurrency restriction in Nigeria's financial and banking industry remained, but it also appears to have started degenerating into a China-style clampdown on cryptocurrencies days after the launch of the eNaira, Nigeria's central bank digital currency. The Blockchain industry Coordinating Committee of Nigeria (BICCoN), Fintech Association of Nigeria (FintechNGR), and a number of other stakeholders have also advised and spoken, but with no success.
Meanwhile, the Federal High Court (Abuja Division) declared the CBN 5 February directive on cryptocurrency illegal since no law of the National Assembly has criminalized or illegalized cryptocurrencies in Nigeria.
As things begin to fall apart, how much longer will the centre hold?