After reaching an all-time high (ATH) on 10 November, bitcoin (BTC) began a downward trend recently. On 7 December, BTC price experienced a decline from the $52,000 resistance zone and traded below the $50,000 and $48,000 support levels before moving again into a bearish zone.
But there is good news ahead of the Christmas celebration as Bitcoin (BTC) breaks out from its short-term bearish pattern and is looking upwards to $50,000 resistance level. The fresh increase started after breaking through the descending channel. With a good move from $45,500, it seems like bulls got back on track.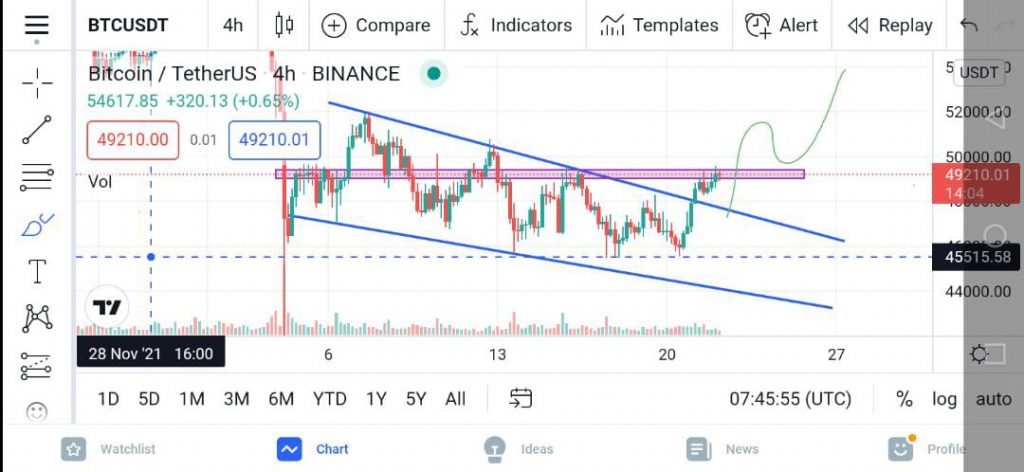 At the time of writing, BTC is trading above $49,000 with a dominance of 40.56% of the crypto market.
$50,000 is a strong resistance zone. But if it gets broken, BTC could move even higher and it will likely accelerate toward the next resistance. A close above the $50,800 zone is actually needed for a fresh increase. If that happens, the price is likely to reach $52,000 level.
In a recent tweet with superstar rapper Cardi B, former Twitter CEO Jack Dorsey told the "WAP" singer that Bitcoin is going to replace the U.S. dollar, showing his unwavering support for the largest cryptocurrency once again.
The Twitter interaction between the Grammy Award-winning rapper and the tech billionaire about crypto usurping the dollar prompted plenty of reactions on Twitter and many are hopeful about how far up the price of BTC could go.