After making a new all-time high of $69,000 in November 2021, bitcoin experienced a serious dump below $33,000 in January 2022. After that massive bearish move, bitcoin price is showing some level of comeback at the start of February 2022. At the time of writing, bitcoin price is trading above $38,000 as the entire crypto market regains more than a quarter of a trillion dollars. Will the bull get the bear out of the way soon?
There is a couple of good news for bitcoin this season as El Salvador rejected a plea from the International Monetary Fund (IMF) to drop bitcoin as legal tender, just months after it became the first country in the world to do so. Alejandro Zelaya, Treasury Minister of El Salvador, said the decision to adopt bitcoin as an official currency was an issue of "sovereignty", dismissing the IMF's request. On the other hand, MicroStrategy, the business-intelligence software company that has taken to accumulating bitcoin, said it bought approximately 660 bitcoins for around $25 million between 30 December 2021 and 31 January 2022. The company paid an average price of $37,865 per bitcoin, it said in a statement. This is quite huge. Another  interesting news is that India took a step closer to adopting cryptocurrencies after years of wavering on its stance as the country seeks to recognize crypto after proposing a flat rate of 30% tax of income made from crypto. Bitcoin gained slightly, probably happy about the news.
Technical Analysis
Bitcoin price bounced at the support line of the channel creating a long lower wick—indicating a buying pressure. The price has been moving upwards since then.
For now, the closest resistance area is found around $41,000, a level that previously acted as support. Even if bitcoin breaks the $39,000 zone, there is still need for more confirmation to determine if the bearish structure has been broken.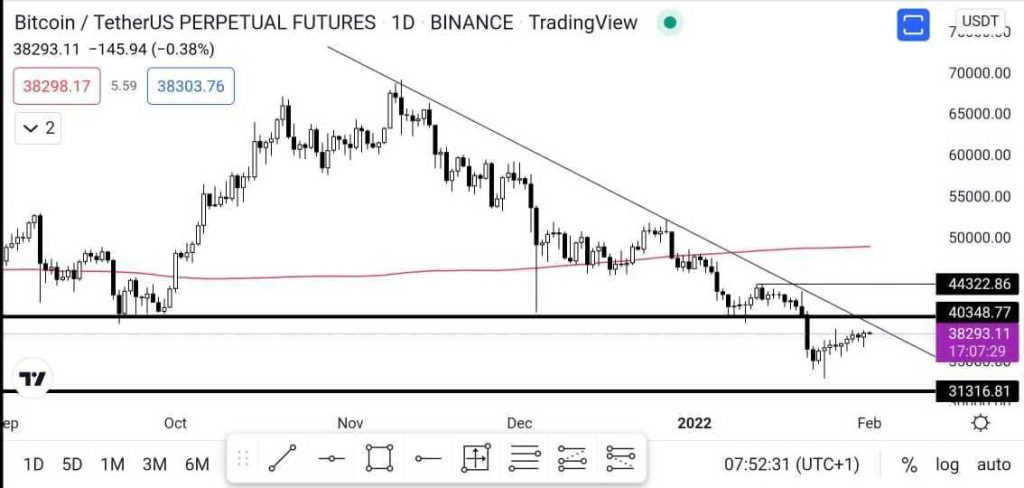 A technical analyst, Sanusi Saheed, opined that, "[t]he market is still bearish. When we close the daily high above the $45,000 zone, then we would have made a new high above the previous low of bearish structure." Sanusi added that "if price closes above the daily previous support which now acts as resistance, then it will imply two things:
Price would have flipped the resistance to support; and
Trendline resistance from November 2021 would have been broken as well.
Unyime Akpan, on the other hand, pointed out that "[t]he market will never go up forever. The market will always have to dump and many accumulate. Therefore, never get tired of buying the dip."
For the past seven days, bitcoin and Ethereum have gained 6.1% and 13.7% respectively. Metaverse projects such as SAND and MANA have also gained 32% and 30% respectively.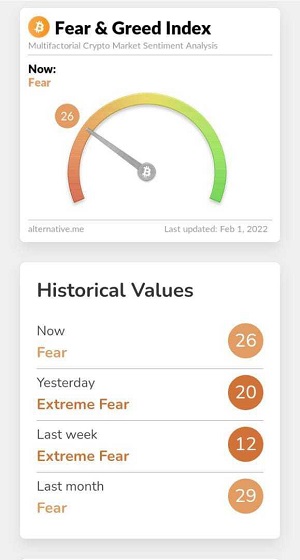 To the Cryptoassetbuyer
The cryptoassetbuyer, investor, or trader is advised to trade carefully. Always apply appropriate risk management, and take profits where possible. The bulls haven't completely gained control as there's a possibility of rejection at the $39,000 zone. Hence, we continue to closely watch the market to see if it makes a move, whether green or red. Prepare for both scenarios. If bitcoin closes above $45,000, then the bulls would have charged forward enough to get the bear out of the way. Keep a close eye on the market with CAB's Crypto Market Live page where you can view price changes of several thousands of coins and tokens live.