During a Twitter space session with CZ on Friday 23 September, a Twitter user asked CZ the following question: 'Will Binance support the LUNC burn of 1.2% for every trade on Binance?'  By burning to reduce the LUNC token total supply, this will improve its price performance. 
CZ answered, pointing out that LUNC Blockchain first needs to implement it on the chain. 
But as it eventually turned out, CZ's statement was interpreted by a number of listeners, including LUNC holders, as meaning that Binance would implement it first on-chain and later off-chain. Contrary to this belief, CZ's statement turned out to be a refusal. CZ's statement, according to him, meant that Binance's initial step would be to implement the burn of 1.2% for every trade on the protocol and later in other areas. This meant a refusal: Binance will not implement the 1.2% tax burn for off-chain transactions of Terra Classic (LUNC) and USTC.
CZ's main reason for the refusal to burn 1.2% for every LUNC trade is because although Binance has the most shares in LUNC, not all centralized exchanges may implement the policy. (Binance accounts for nearly 35% of LUNC supply.) If other centralized exchanges don't apply the same tax, CZ believes this would have a negative impact on Binance's competitiveness in the market. How? LUNC traders will most likely move their assets from Binance to other centralized exchanges that don't have the 1.2% tax.
CZ's option to LUNC Investors
Today Sunday 25 September, CZ, via his Twitter handle, says if the LUNC community don't force a 1.2% tax on all their users, they are "centralized/greedy". As far as CZ is concerned, "I believe the opposite. Forcing a tax is "centralized", high tax is greedy. We protect our users. We let our users choose. We are firm on this principle."
According to CZ, "We will implement an opt-in button (on the Binance exchange), for people to opt-in to pay a 1.2% tax for their LUNC trading."
To ensure that early comers "are not the only few paying an extra 1.2%", Binance will implement the tax for opt-in traders following the consensus of 25% of LUNC investors. A blanket trading tax of 1.2% will be implemented for all LUNC trading only after opt-in traders reach 50% of the total LUNC trading volume on the exchange. While some people believe this was only fair, others believe this was sheer market manipulation by LUNC's biggest whale.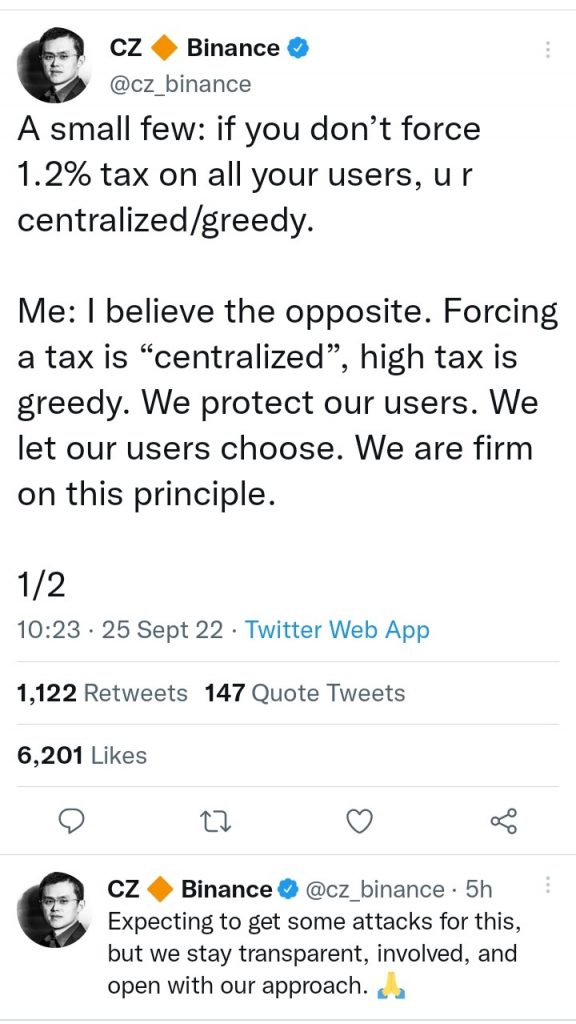 For followers who believe that CZ has a point, they wonder why low-value users should greedily and selfishly be mandating a 1.2% tax on every whale trader. Rather than focusing on CZ's refusal to not burn, they think LUNC users should focus on burning on their own chain. While CZ insists that whales are not going to trade with 1.2% tax, some LUNC users accuse CZ of being the biggest whale who is not ready to lose his bets.
Market's reaction to CZ's Refusal
The market reacted to CZ's refusal of the proposed LUNC burn of 1.2% for every trade on Binance. Within an hour, Terra Classic (LUNC) price fell nearly 10% to $0.00024. 
The LUNC community hopes to shift LUNC to TerraStation where it will find support for a 1.2% burn tax. In the last 24 hours, LUNC is further down by 7.59% on Sunday 25 September. A year ago, a LUNC token was nearly $120.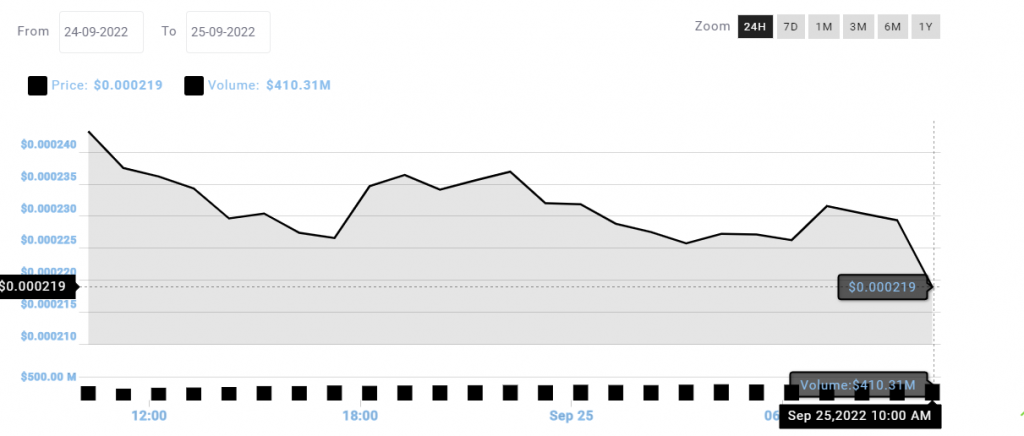 Since the tragic Terra collapse which wiped off TerraUSD (UST) and LUNA value and had their prices take a nosedive, the LUNC community continues to try possible means to recover. Meanwhile, co-founder Do Kwon is yet to be arrested by South Korean authorities over the Terra collapse. According to the authorities, Kwon violated South Korea's capital markets law.
A LUNC Hodler encourages other investors to remove LUNC and funds from Binance
Jamen Mendez, a commentator and LUNC hodler expressed his disappointment via his Medium page, saying:
"We cannot and must not count on any one but our development team and community to rebuild Luna Classic.
We are the leaders of this blockchain. Not CZ or Binance. Let us work together in rebuilding Luna Classic from the bottom up, through the tax/burn initiative and by bringing more developers to build on the ecosystem — bring value to the platform.
Finally, let our money speak for us:
Let us Remove our LUNCs and Funds from Binance!"
But can one really blame CZ here? As the CEO of Binance, is CZ not first an entrepreneur or businessman before being a crypto ecosystem savior, if he ever was that? Is it possible that CZ may have started seeing the increasing need to sharpen Binance's competitive edge in the crypto market as the biggest crypto exchange in the world? Recently, Binance made its own BUSD the stablecoin that users in its ever-growing ecosystem must prefer if they care about liquidity, relegating competing stablecoins such as USDT and USDT for example. Binance has also been investing big time in a stronger global advisory board while also building its compliance muscles in the space. Perhaps the days of CZ being the crypto ecosystem's (seeming) angel is over? 
Where does LUNC Price go next?
LUNC doesn't appear to be going anywhere, at least not the way up for now. If Binance's CZ doesn't give in to the pressure from the LUNC community and holds on to his idea of keeping Binance competitive except other centralized exchanges also implement the same 1.2% tax on LUNC trades, LUNC price is not likely going to see any significant or even appreciable improvement in performance. Even if it does, it may not be sustainable until the LUNC community finds other compelling options. The news that South Korean authorities are still looking to grab Do Kwon isn't helping either. Market confidence in LUNC's future remains low. Whatever you do with that LUNC, remember to apply risk management.