"Blockchain is yet to be recognised by the Nigerian government, kindly expunge". 
That was the reason given by the Corporate Affairs Commission (CAC) for  querying an application for registration of a private limited company in Nigeria.
Typically, until the query is resolved by the applicant, the Corporate Affairs Commission (CAC) will not process the application. All the applicant wanted was to register a blockchain company. The applicant submitted the application on 10 October 2021 through the CAC online portal.
The applicant is a startup currently incubating at Convexity. The startup is building API connection for blockchain gaming rewards. Adedeji Owonibi is the Founder/COO at Convexity and Senior Partner at A&D Forensics, a blockchain analysis firm in Nigeria. Recently, Mr. Owonibi has provided training on blockchain to the Central Bank of Nigeria (CBN), the Economic and Financial Crimes Commission (EFCC) and a number of other government agencies. Ironically, Mr. Owonibi, who is passionate about Nigeria getting it right, had himself persuaded the startup to incorporate in Nigeria when  the startup expressed its desire to  incorporate in Rwanda, Dubai, or other jurisdiction it considered friendly to innovation.
Against the backdrop above, Mr. Owonibi is particularly disappointed and shocked at the level of ignorance at the CAC. He expressed his shock and frustration on Linkedin on the night of Tuesday 19 October 2021 as follows:
I can't believe we have this level of ignorance in govt circle, at least not the agency saddled with Company registration in Nigeria. The staff that queried this application for company registration on the pretence that Blockchain is not approved by the Nigeria Govt need to be educated immediately for ease of doing business to improve in Nigeria.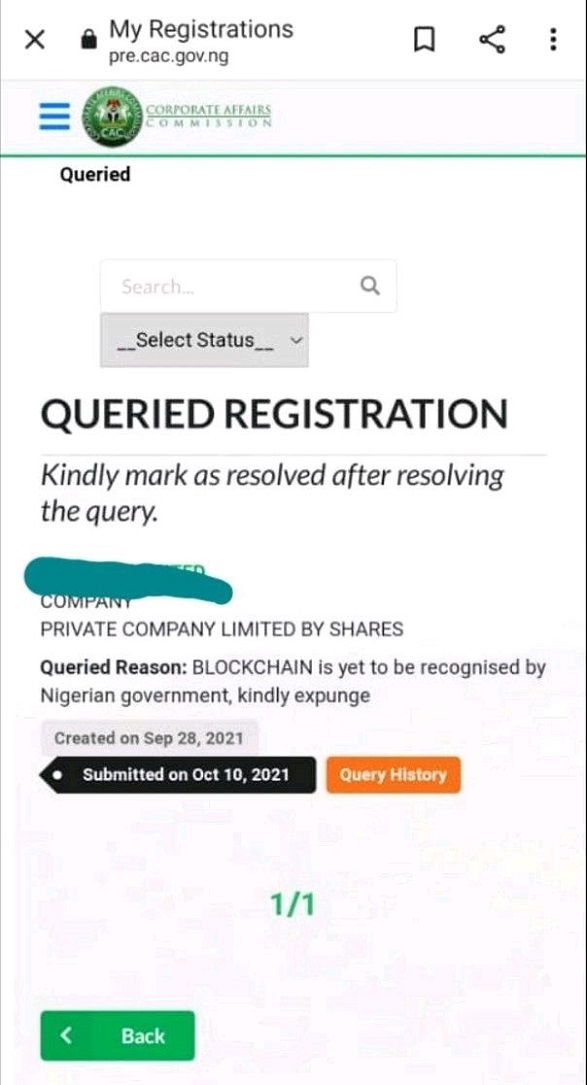 Similarly disturbed by CAC's query and how this was a threat to the ease of doing business, Charles Okaformbah, Co-Founder/CTO at Convexity tagged the Vice President Prof. Yemi Osinbajo on Linkedin and wrote as follows:
Your Excellency, Prof. Yemi Osinbajo, we can't get to where we want to be in other to drive the digital economy if we can't even register a company as Blockchain-focused.
This is one of the reasons local startups are running away from registering their blockchain companies here in Nigeria. Blockchain is not all about Cryptocurrencies as there are lots of creative solutions that are applicable to resolving some of our societal issues from finance, art, ownership, tokenization, gaming, etc. This is a great disservice from the Corporate Affairs Commission to the ease of doing business and will pull us back further if it is allowed to hold.
Convexity wouldn't mind having a pro bono class on Blockchain for those handling the affairs and making decisions at the Commission.
Mr. Okaformbah also tagged Isa Ali Pantami the Minister of Communications and the Digital Economy and the CAC.
Dr. Babatunde Obrimah, Chief Operating Officer at Fintech Association of Nigeria also reacted to the post by way of a comment:
Nnamdi Uba, Founder of HouseofAfrica, a blockchain company which uses blockchain to solve the problem of land title ownership, also reacted to the post:
"Awful".
Nigeria has no national strategy on blockchain, and its government agencies appear to not only be divided but also disorganized.
While the CAC and some other government agencies in Nigeria may be completely getting it twisted, China—which is widely known to have one of the most hostile anti-crypto policies in the world—boasts of having established over 10,000+ new blockchain companies in the first 7 months of 2020. Number of new blockchain companies established in China continues to witness a boom.
So while China has banned bitcoin and other cryptocurrencies, China continues to invest massively in blockchain. China understands that blockchain is largely the Internet 3.0 that will power the digital economy. Does Nigeria understand this?
Well, maybe. 
Nigeria has a draft National Blockchain Adoption Strategy it released to the members of the public in 2020. The National Adoption Strategy is championed by the National Information Technology Development Agency (NITDA), an agency supervised by the Federal Ministry of Communications and the Digital Economy. The National Adoption Strategy is a blueprint and strategy document for the national adoption of distributed ledger technology (DLT)/blockchain in Nigeria. The draft strategy has the following institutions listed as stakeholders, including the CAC, who will implement the strategy for Nigeria:
Federal Ministry of Communication and Digital Economy
National Information Technology Development Agency (NITDA) 
Central Bank of Nigeria (CBN)
Nigeria Deposit Insurance Corporation (NDIC)
Securities and Exchange Commission (SEC)
Nigeria Immigration Service (NIS)
Nigeria Inter-Bank Settlement System (NIBSS)
Ministry of Budget and National Planning
Nigeria Communication Commission (NCC)
National Pension Commission (PENCOM)
Nigeria Insurance Commission (NAICOM)
Fintech Association of Nigeria
National Bureau of Statistic (NBS)
National Identity Management Commission (NIMC)
Independent National Electoral Commission (INEC)
Federal Inland Revenue Service (FIRS)
Nigeria Bar Association (NBA)
Corporate Affairs Commission (CAC)
Nigeria Customs Service (NCS)
Financial System Strategy (FSS2020)
Nigeria University Commission (NUC)
Association of Bureau de Change of Nigeria
Code of Conduct Bureau (CCB)
Investment Promotion Council
Nigeria Society of Engineers (NSE)
Stakeholders in Blockchain Technology Association of Nigeria (SIBAN)
Relevant Blockchain User Groups and Technology Associations
In November 2020, NITDA organized a workshop for review of the National Blockchain Adoption Strategy in Abuja FCT. The Workshop was aimed at providing relevant stakeholders with the platform to review the draft strategy by serving on the Technical Working Group (TWG). Mr. Owonibi, amongst other stakeholders in Nigeria's emerging blockchain industry, was one of the delegates at the workshop. He also contributed to the draft strategy.
It was at the National Blockchain Adoption Strategy workshop that it was disclosed by the NITDA Director/Chief Operating Officer, Kashifu Inuwa Abdullahi, that Nigeria is targeting $10 billion from blockchain. Whether Nigeria is prepared to achieve its 2030 target of $10 billion revenue from blockchain is doubtful, if the country's CAC does not understand the difference between blockchain and bitcoin or other cryptocurrencies.
The query, "Blockchain is yet to be recognised by Nigerian government, kindly expunge", is obviously the CAC's interpretation of the Central Bank of Nigeria's current policy on cryptocurrencies in Nigeria's banking and financial system. For the avoidance of doubt, the Central Bank of Nigeria cryptocurrency directive is not a ban of cryptocurrencies in Nigeria. The directive restricts banks and other financial institutions in Nigeria from providing banking and financial services to entities and traders involved in cryptocurrency.
Till date, cryptocurrency transactions remain legal in Nigeria as long as such transactions are outside Nigeria's banking and financial system. This is partly why peer-to-peer cryptocurrency platforms have been growing in the country. Speaking on behalf of the Governor of the Central Bank of Nigeria at the 30th seminar for Finance Correspondents and Business Editors in Abuja FCT held in March 2021, Adamu Lamtek, Deputy Governor, clarified recently that the central bank did not ban cryptocurrency activity in the country. In the words of Mr. Lamtek, "[w]hat we have just done was to prohibit transactions on cryptocurrencies in the banking sector." Lamtek was speaking at  held in the country's capital, Abuja.
Will the Nigerian government address this  critical issue or will it be left unaddressed just like many other matters in Nigeria? Time will tell.
UPDATED to correct the name of the applicant. Also updated to include Mr. Owonibi's personal effort at ensuring that innovators register and do business in Nigeria.
UPDATED to explain the effect of Central Bank of Nigeria's February 2021 cryptocurrency directive.