Launch of new in-game NFT rewards platform reflects increasing adoption of GameFi and NFT, the best of two worlds in Metaverse
'Metaverse' was coined by Neal Stephenson in his 1992 novel Snow Crash, where a 3D virtual world inhabited by avatars of real people exists. A metaverse significantly involves augmented reality (AR). As illustrated by a game designer Raph Koster, a metaverse world includes such experiences as walking around a real city and seeing virtual things, shopping at actual stores via VR interfaces, attending classes that have mixed attendance between virtual attendees and physical ones, or performing a job solely in virtual space while getting paid with real money. It blends the real and the virtual.
On the one hand, blending the real and the virtual in a manner that is unique and irreplaceable is how Non Fungible Tokens (NFTs) come in. NFTs turn real-world assets such as art, music, collectibles, in-game items, and videos into digital assets secured on the blockchain. With NFTs, every real-world asset cannot only be represented in the virtual world but also uniquely. And on the other hand, combining decentralized finance (DeFi) and gaming, GameFi introduces a reward system that is based on a play-to-earn model instead of play-to-win model. With GameFi, as players engage in gameplay and advance through stages, they are financially incentivized. This is how NFTs and GameFi—the two biggest and exciting concepts in the crypto space presently—make up the metaverse.
And this is where Night Life Crypto (NLIFE) comes in.
NLIFE is launching in-game NFT rewards for its flagship game 'Night Life Drifting' on Polygon.
NLIFE integrates with Polygon—the largest interoperable protocol—to launch Night Life Drifting, an action/arcade game.
NLIFE, the first platform to bring AAA style titles to blockchain games, is proud to announce an integration with the largest interoperable protocol, Polygon, connecting Ethereum-compatible blockchain networks. This is according to NLIFE's press release made available to CAB.
NLIFE will use Polygon's chain to launch its initial series of integration NFTs. It will also utilize Polygon for all in-game NFT rewards for its upcoming flagship game, Night Life Drifting. The NFT sale goes live on 22 October 2021, 3pm WAT, 2pm UTC.
Night Life Drifting is an action/arcade game where users race other players through a neo-Tokyo city, drifting through the streets to win performance NFTs, $NLIFE tokens, and visual-modification NFTs to upgrade their in-game vehicles.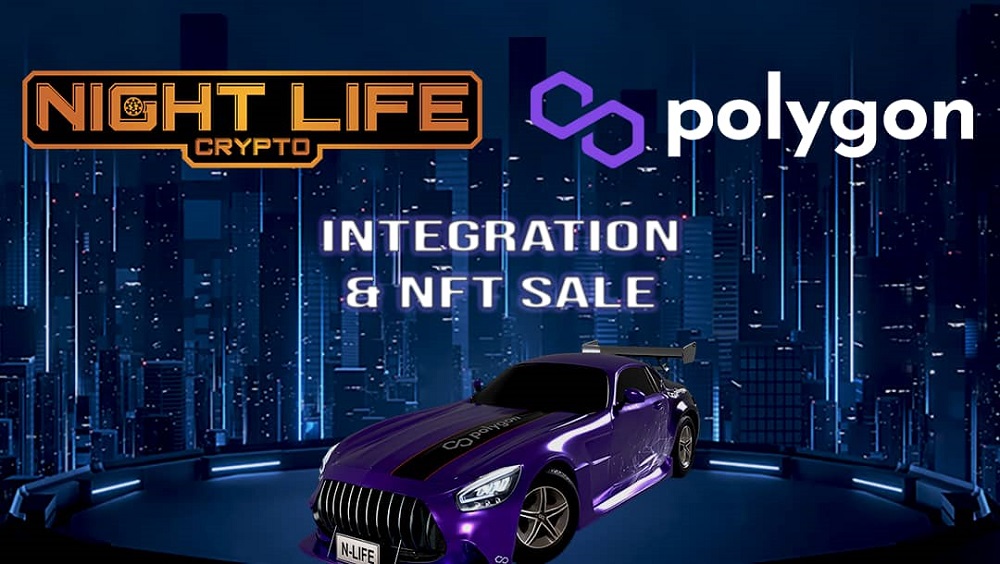 NLIFE unveils a never-before-seen Polygon branded car, the Matic GT.
For the Polygon integration, NLIFE is unveiling a never-before-seen Polygon branded car, the Matic GT. This car is purchasable as an NFT, which players will be able to drive. Custom front and rear bumpers, license plate, rims, side skirts, spoilers NFTs are also available for purchase and can be equipped to the player's car in-game. Most of these parts are one-time designs unique only to the Matic GT and are limited in supply.
Included in this series of NFTs is a custom gold-paint for the Matic GT that will only have a mint limit of 3 total—2 to be auctioned; 1 to be offered as a contest prize. The NFT sale is on OpenSea.
A bag of benefits for the loyal $NLIFE community
NLIFE is also announcing features of the Polygon integration that benefit its loyal $NLIFE community. First, $NLIFE will be available on Polygon (MATIC). Second, $NLIFE holders will be able to use a bridging service built by $NLIFE to bridge their BEP-20 or ERC-20 $NLIFE to MATIC. $NLIFE will be available for purchase on Quickswap.exchange.
With increasing adoption of NFT and GameFi platforms, the future looks promising for NLife.
"NLIFE plans to change the game (pun intended) in the crypto gaming platform industry and lead the way in getting blockchain gaming closer to what real gamers want to see and are used to playing outside of crypto", states NLIFE in its whitepaper.
NLIFE's Polygon integration represents the first of several that NLIFE envisions would establish its Night Life Drifting game as one of the top blockchain gaming platforms out there. This integration will also enable NLIFE showcase the in-game graphics and level of customizations in the upcoming release of Night Life Drifting before the end of 2021.
Listed on Coinmarketcap, Coingecko, and several others, NLIFE is bringing the metaverse to the universe, and the universe to metaverse.
Further details about Night Life Drifting can be found on both the NLIFE Website and the Night Life Drifting Website.