According to data from Coingecko, bitcoin, the world's biggest cryptocurrency, is down by over 30 per cent from the year's high of $69,000 reached on Nov. 10. For the past 24 hours, BTC is down by over 16 percent. Ether, the world's second-largest Cryptocurrency by market value, has lost more than 14% over the past 24 hours.
The massive sell off led to the liquidation of over 365,000 leveraged traders, amounting to more than $2billion in 24 hours.
Fundamental analysts believe that the recent market correction comes as Omicron Covid variant fear spreads across the global market.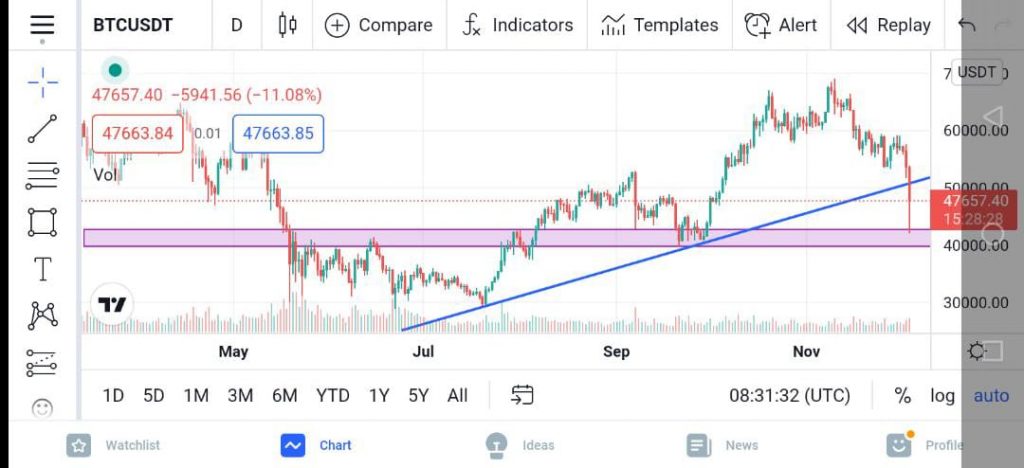 Technical analysts on the other hand have spoken about this particular level, emphasizing its importance.
Sanusi Saheed, a Nigerian based Technical Analyst, said to a group of traders early hours today, "Honestly, I don't see anything new here. Just that the pullback happened faster than I imagined. Be calm guys. Don't put your emotions on the line. Mark your levels and trade level by level. It saves you a lot of unnecessary stress." Sanusi also went on to say that "Bulls only have today and tomorrow to keep the 48k holding. Once that's done, we are cool".
So this looks like a healthy market correction.
From the chart above, we see that we are in a strong demand zone and we hope that the bulls will hold up that level and push the price upwards. The market has presented another opportunity to buy the dip. However, leveraged traders should trade with caution and applying proper risk management.