In a significant turn of events, Bitcoin Cash (BCH) has experienced an extraordinary surge, catapulting its value by a staggering 107.22% within seven days of being listed on the newly launched trading platform, EDX Markets. This remarkable ascent can be attributed to two significant factors: the emergence of EDX Markets and the growing influence of institutional investors.
The rise of Bitcoin Cash fueled by EDX Markets and institutional influence
EDX Markets, a newly launched trading platform that is specially created for institutional investors, has gotten widespread attention because of its backing by large financial institutions like Fidelity, Schwab, and Citadel Securities. Although not (currently) registered with the U.S. Securities and Exchange Commission (SEC), the platform's association with these prominent players in the finance industry has made it to have substantial credibility.
Of particular note is the exclusive listing of four cryptocurrencies on EDX Markets: bitcoin, Ether, Litecoin, and Bitcoin Cash.
Including Bitcoin Cash on the platform has been interpreted by market participants as a resounding vote of confidence, especially in light of the SEC's current intensified scrutiny of other blockchain projects in the ecosystem.
Read also: Binance accuses the U.S SEC of aiming to unilaterally define crypto market structure.
However, it was not just EDX Markets that contributed to Bitcoin Cash's rise. BlackRock, a leading asset manager, submitted an application to the SEC for a Bitcoin spot exchange-traded fund (ETF), setting off a wave of similar applications in the cryptocurrency market. This surge of interest generated a bullish sentiment surrounding Bitcoin and its various offshoots, including Bitcoin Cash.
Bitcoin Cash in numbers
At the time of writing this report, Bitcoin Cash is valued at $220.06. This reflects an impressive 14.51% increase within the past 24 hours and an astonishing surge of 107.22% over the last week. With a circulating supply of 19 million BCH, the current market capitalization for Bitcoin Cash stands at $4,271,267,166.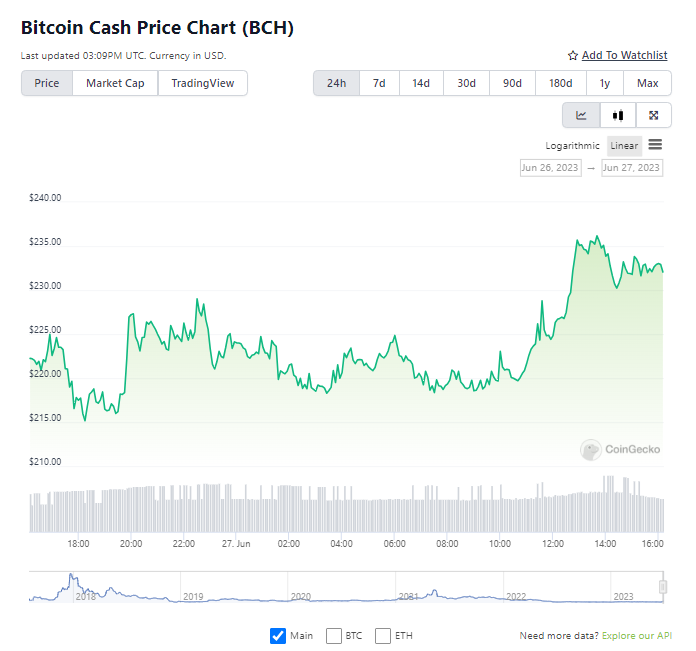 Bitcoin Cash Price Chart @ CoinGecko
Bitcoin Cash's value has experienced a significant surge, moving from a seven-day low of $105.52 to its current price of $220.06. Market analysts are now closely monitoring the resistance level at $220 to $230, which, if surpassed, could potentially give the way for further bullish momentum in Bitcoin Cash's price.

Read more: What is Bitcoin Cash (BCH)?
---
Credit: Solomon Victor is a Technical Analyst who is also knowledgeable about various aspects of blockchain and cryptocurrency.