Bitcoin price slumped to about $18,000 on 18 June, dropping the $20,000 support it has been getting for weeks.
This is the first time bitcoin has slumped under $20,000 since December 2020. At press time, bitcoin price is $18,000 but it went as low as $17,708. With such drop, this means bitcoin has also for the first time in its over 12-year history dropped below its previous cycle. Market dominance, according to CoinMarketCap, is now 42.98%.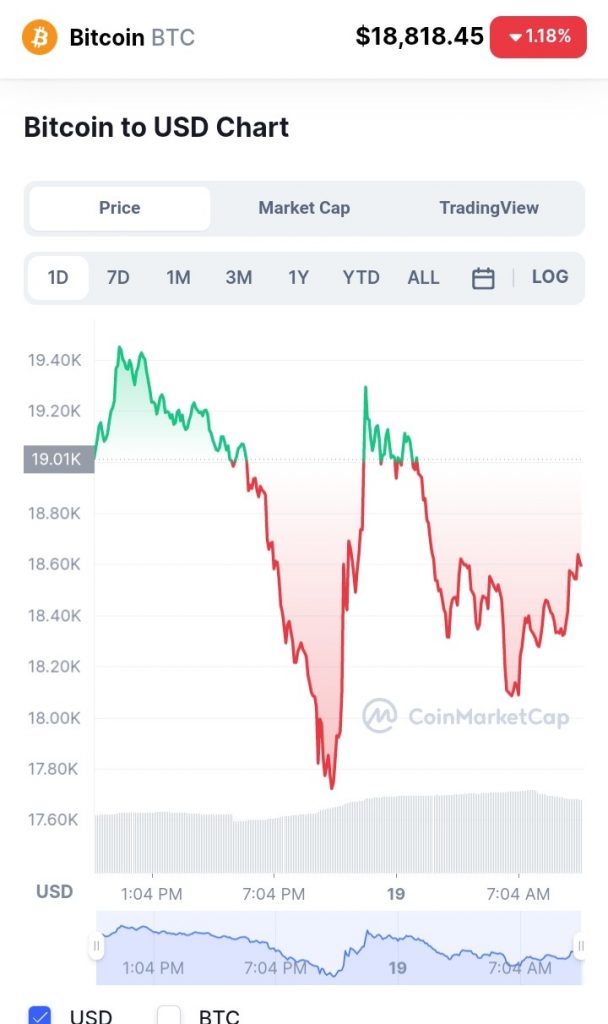 Ethereum, the biggest altcoin in the market, also dropped below $1000. It is a crash party where no one is a guest.
In a previous post by Solomon Victor, it was predicted that bitcoin was most likely going to fall to $20,000. Is bitcoin now on its way to $11,000?
Triggered sell-offs in the crypto market
The crypto market has witnessed massive sell-offs recently. Amongst other reasons, the United States Federal Reserve's comments on the inflation outlook was particularly troubling. Also, Three Arrows Capital's (3AC) liquidity issues as well as Celsius's recent crisis are key factors that have negatively impacted the crypto market.
Of course, global economic factors have also impacted the crypto market negatively as investors, particularly institutional investors, have started scurrying from crypto asset investments to relatively safer investment havens such as government treasuries. VCs and funds are becoming insolvent, causing sell offs. Currently, institutional investors are dumping bitcoin.
June has particularly been a bloodbath for crypto. Bitcoin/USD pair has lost over 40% so far of its price value this month. According to CoinMarketCap, at press time, bitcoin is 72.95% below its all-time high of 68,789.63 seven months ago (10 November 2021). But from its all-time low of $65.53 nine years ago (5 July 2013), bitcoin still has a 23,301.84% gain. If purchased at the time of launch, bitcoin returns on investment (ROI) is currently 13,640.6%.
Is bitcoin heading to $11,000? Possibly.
Historical trends suggest that 80-84.5% is the classic drawdown target for bear markets. This puts BTC/USD at between $11,000 and $14,000. So YES, bitcoin at $11,000 is possible. Probably, even lower.
"$10,000 is now possible when you expect some margin calls and forced sales to be put at $15,000. If that happens, expect massive dump and sell-off, and that will quickly push it below $10,000", says Ndubuisi Okekwe, Nigerian professor and entrepreneur, on his LinkedIn post about the current bitcoin crash. As far as Ndubuisi Okekwe is concerned, "[t]he problem with BTC is that it has nobody to speak for it since it is "decentralized". Other currencies would have seen a governor of the central bank issue a statement. The biggest fear now is the exchanges: if some begin to go under, some assets will go."
Frank Oguaju, a strategy, innovation, and global business advisor, responding to Ndubuisi Okekwe's Linkedin post, pointed out that "[t]here is instability in economies" therefore "BTC does not have a special power to hold things together, so it's normal that it's getting beaten too". Further, Frank Oguaju stated that "[y]ou can never find anyone who will calmly talk about how BTC or any crypto is a great asset to acquire. Other than its speculative nature that can throw up millionaires overnight, what productive feature does it have? Dollar is not stable because the name is dollar, rather the holders look at [the] USA, if the US collapses economically, you cannot expect people to be holding dollars. Nobody is defending BTC right now, so it will keep receiving hits, until the forces punching it decide to rest."
But Bethel Amadi, CEO of Godfada Brand, who claimed that in 2019 he developed a mathematical equation that could tell when exactly to sell or buy any digital assets and was able to correctly predict that bitcoin would go up to $64,000 in early 2021, responds to the current bitcoin crash as follows:
"[Bitcoin] will get as low as $7,000+. People shouldn't panic, they need to understand how bitcoin works or functions, which is similar to light propagation, it needs to go low to go so high, new billionaires and millionaires are about to be born. From it[s] historical chart, it formed a giant head and shoulders pattern, which predicts a speedy free fall, but when it does this, it's consolidating in motion to accumulate momentum to rise above $100k in 2024."
Bethel Amadi reminds readers that his statement above is just a speculation. But based on Dow Theory, history repeats itself: Bitcoin always rallies after great moves in higher highs. it makes counter lower lows. In 2017, bitcoin dropped from about $20,000 to as low as $2,800. And then never looked back again.
Each time bitcoin blows up like a bubble, a new height is attained shortly after, resulting in a bigger "bubble". And bitcoin has died many times, but resurrects soon after.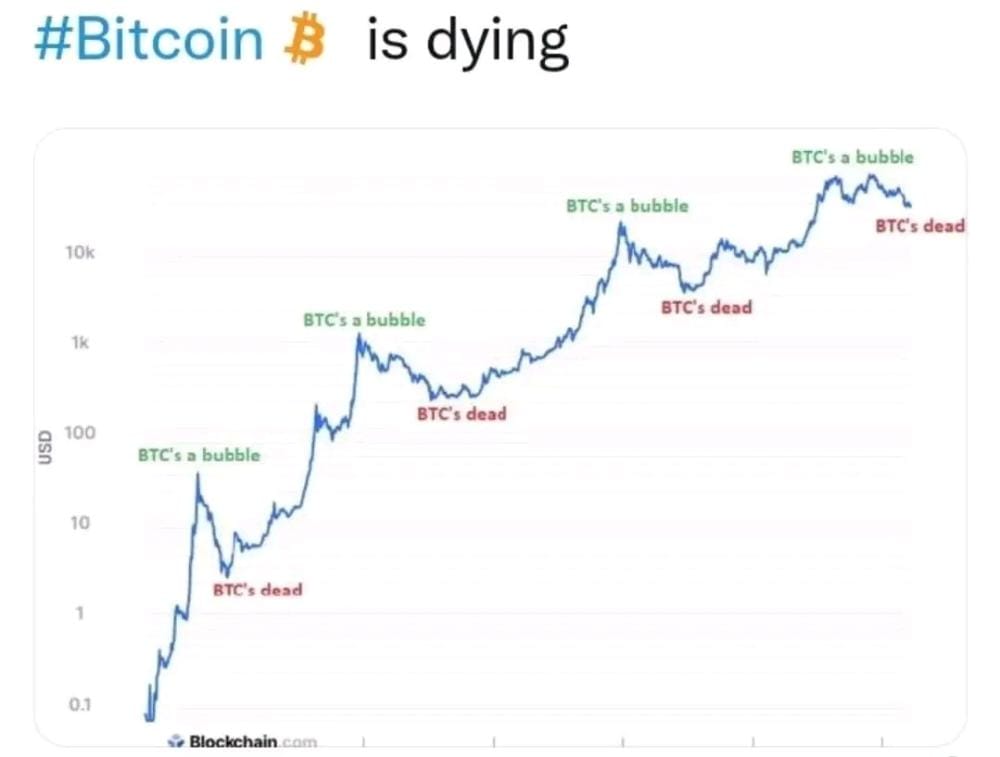 Bitcoin adopters and outlook
Elon Musk's Tesla, has lost 11% over the past month.
Jack Dorsey's Square has lost $40.8 million
Michael Saylor, CEO of MicroStrategy, a fund with the largest corporate bitcoin treasury, is not panicking but holding, even if bitcoin price falls to $3;600, he says.
"When MicroStrategy adopted a Bitcoin Strategy, it anticipated volatility and structured its balance sheet so that it could continue to HODL through adversity," he stated in a tweet on 14 June. "That is all FUD. We started with $5 billion of unpledged collateral, we borrowed $200 million against it, so that's a loan-to-value ratio of 4%. If Bitcoin fell 95% from that number the we'd have to post additional collateral", Saylor said on Yahoo! Finance Live.
Of the maximum supply of 21million bitcoin, bitcoin circulating supply, which equals total supply, is currently 19,071,350 bitcoin. For funds such as MicroStrategy, bitcoin is the digital gold that is currently undervalued and would become even more valuable given its scarcity in relation to demand. But tell that to Bill Gates who recently maintained that cryptocurrencies are based on 100% greater fool theory.
So will bitcoin price hit $11,000 (and even below) and skyrocket after this pull back or is this that pullback that bitcoin may not recover from? Do your own research and reach your own decision.