by Edison Irabor
---
Although the value of the broader crypto market has been decreasing in the past few days, memecoins dominate crypto trading on decentralized exchanges (DEX) currently. According to CoinGecko's GeckoTerminal, four of the top five trading pairs by volume in the last 24 hours were memecoins. While holders of bitcoin (BTC), Ether (ETH), and Binance Coin (BNB) have lost over 5% in the last 7 days, investors in meemecoins such as PEPE, TURBO, and WOJAK, have gained significantly. LADYS, a meme token associated with Milady NFTs, hit $100M trading volume, the second-highest volume of all trading pairs. Also, PEPE/WETH pair on Uniswap is the third-highest, with just over $78M in volume.

Memecoins, such as Dogecoin (DOGE) and Shiba Inu (SHIB) have been the two most dominant memecoins in the crypto space for a long time. But there is a refreshing popularity of memecoins recently. This has stimulated the level of interest in memecoins to the extent memecoins now dominate crypto trading on DEXs. This trend is particularly traceable to the introduction of Pepe (PEPE) in the memecoin market. A deflationary memecoin launched on Ethereum, Pepe was created as a tribute to the Pepe the Frog internet meme, created by Matt Furie.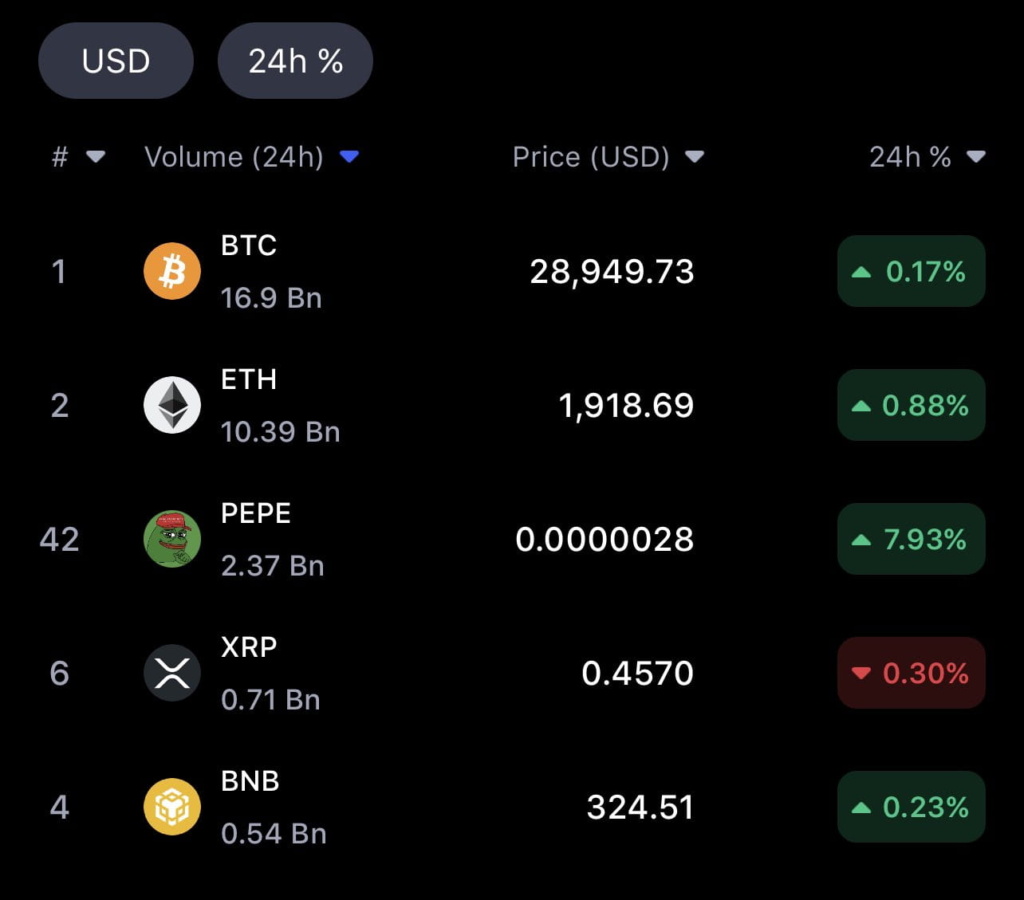 When Binance, the world's biggest crypto exchange, announced that it was listing PEPE (and FLOKI) in its innovation zone, it sparked significant investment interest in PEPE, reaching its all-time high of $0.000004354 on the same day. According to reports, the 24-hour trading volume of PEPE hit $2.37 billion, three times higher than the $540 million BNB recorded on the same day on Binance.
Memecoins and the challenge of lack of utility
Memecoins lack overall utility, which questions their value in the crypto space. But even with little or no use case, memecoins continue to attract users and investors. Positively, memecoins, particularly Dogecoin and Shiba Inu, have made it easier for newbies to be introduced to the crypto space given their cheap prices.
But negatively, memecoins give credence to the common belief that cryptocurrencies or cryptoassets are largely speculative without any economic value. If crypto is highly volatile, memecoins are super volatile. This is why many memecoin investors are either making money or losing money big time. For example, PEPE whose popularity rose sharply over the past few days has plunged abruptly over the past five days. From its all-time high of $0.000004354 on May 5, PEPE went as low as $0.000001666 on May 11. This resulted in a loss of $1 billion from PEPE's total market cap, according to on-chain data.
The craze for memecoins does not look to abating any time soon. Social media is awash with memecoins and their various offers.
Related: Understanding the Pros and Cons of Memecoins as an Investor
Top 10 memecoins in the crypto market
According to Coinmarketcap at the time of writing, memecoins currently has a market capitalization of about US$17.2 billion. Dogecoin (DOGE) currently leads with up to US$10 billion market capitalization, which is about 58.5% of the entire memecoin market, followed by Shiba Inu (SHIB) and Pepe (PEPE) at about US$ 5.2 billion and about US$630,000,000 respectively:
Dogecoin (DOGE): US$10 billion
Shiba Inu (SHIB): US$ 5.2 billion
Pepe (PEPE): US$630,000,000
Floki (FLOKI): US$344,000,000
Bone ShibaSwap (BONE): 184,000,000
Dogelon Mars (ELON): US$119,000
Baby Doge Coin: US$342,000
Milady Meme Coin: US$47,000
Volt Inu V2 (VOLT): US$46,000
Richquack.com (QUACK): US$43,000
Project developers: Do not start a joke you cannot finish.
Though some memecoin developers, including Shiba Inu particularly, now try to introduce a number of use cases. This is in order for their memecoins to achieve and maintain a sustainable and less volatile ecosystem. But this has been a big challenge with most memecoins in the crypto space.
As a project developer, the current feedback seems to be that if you really wish to build something more serious, stable, and sustainable, do not start it as a meme project. If you must, having a robust community is critical to the success of your memecoin project.
Investors: Do not invest what you cannot afford to lose.
Investors should trade responsibly. In order to succeed in the highly volatile crypto market, you must learn to manage investment risks. Due to their more speculative nature as a result of the general lack of utility, memecoins are one of the most volatile of cryptocurrencies or cryptoassets.
Apparently, many memecoin investors understand memecoins to be just that—memes; a joke and nothing more. So as soon as the initial euphoria over the latest and hottest joke is over, many investors count their gains, and losses. They then move on to the next hot memecoin in town. So as a memecoin investor, except you think losing money is a joke too, do not invest what you cannot afford to lose.
Read also: Top 6 Hacks on How To Avoid Losses in Crypto Trading