PR: by Godrick Fortune Princewill (godrickprincewill04@gmail.com)
The first bitcoin transaction occurred on May 22, 2010, a date known to Bitcoin enthusiasts as "Bitcoin Pizza Day." Laszlo Hanyecz, a Florida programmer and Bitcoin miner, paid 10,000 bitcoin to have two Papa John's pizzas delivered to him. The pizzas retailed for about $41.
At the time of the transaction, Bitcoin was still under the radar and had not gained much popularity. Laszlo was among the few people who had accrued a decent amount of bitcoin and thought of utilising it in the real world. Jeremy Sturdivant, a young Bitcoin enthusiast, delivered the pizza to him four days after the pizza vendor rejected the bitcoin transaction.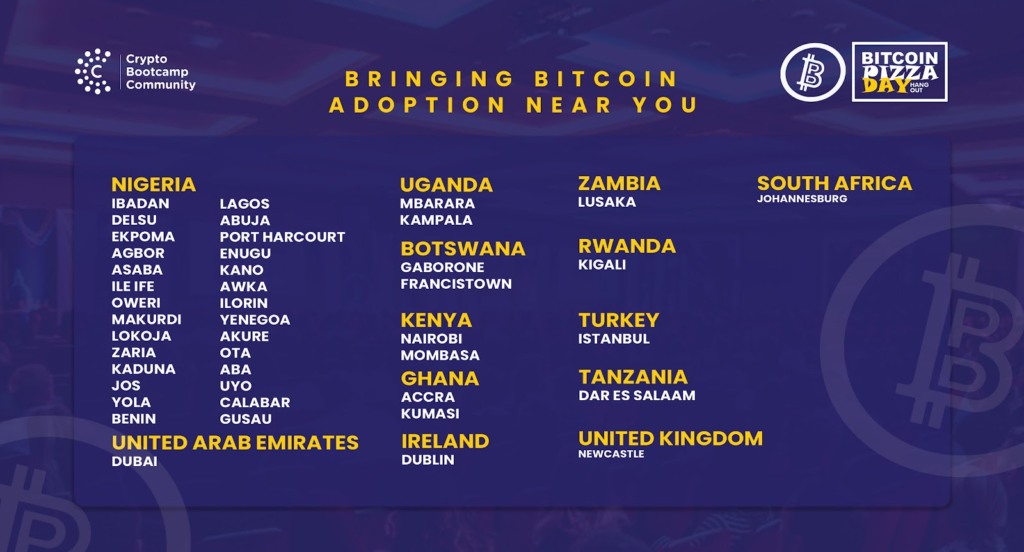 Bitcoin pizza day hangout 2023
The Significance of the 10,000 Bitcoin Pizza!
In retrospect, the 10,000 bitcoin trade for pizza may seem like the worst trade deal of all time, but it simply tells us about the nature of bitcoin.
Bitcoin Pizza Day wasn't widely celebrated initially but gained popularity in 2014 after the major media outlets picked up the story. While 10,000 bitcoins at the time were only $41, within a year of the transaction, these two pizzas were worth $10,000. Bitcoin peaked on November 10, 2021, with a value of $68,990.90, sending the price of the two pizzas to a staggering $689,990.90 USD, or $34.5 million per slice.
Bitcoin Pizza Day hangout, Nairobi, Kenya (2022)
Bitcoin is fundamentally an ongoing experiment. It is speculative. In 2010, no one could have predicted where bitcoin would be today with any certainty. Many early investors sold their Bitcoin when the market peaked in 2011 and made what at the time seemed like a decent profit. If they had held, however,many would be bitcoin billionaires today.
The significance of the Bitcoin pizza transaction goes beyond just pizza and Bitcoin. It symbolizes the beginning of a new era of decentralized finance and the power of community driven initiatives. The event is a reminder that bitcoin is not just speculative but also a means of conducting real world transactions.
Bitcoin pizza day hang out, Nairobi, Kenya (2022)
The impact of the Bitcoin pizza purchase was significant as it demonstrated the real world value of bitcoin and its potential as a medium of exchange. It thus gave many insights about bitcoin and thought of adoption after the global financial crisis that happened 12 months before the Bitcoin pizza trade.
To demonstrate to everyone that bitcoin actually had value, Hanyecz had to conduct the trade in public, in violation of Gresham's law, by using hard currency instead of soft currency. After doing so, he completed a major milestone in bitcoin history. The token ceased to be a yet worthless novelty to become something new, undefined yet, but worth real value. Hence, the transaction gained popularity for bitcoin and spread its value around the world. It also gained enthusiasts who really enjoyed the peak of bitcoin from time to time.
Today, many companies accept bitcoin as payment, with some pizza restaurants even embracing bitcoin as a payment option.
To all the Bitcoin maximalists, investors, communities, media houses, and platforms out there, this is a shout out to you all! Your unwavering commitment and passion for driving the widespread adoption and acceptance of bitcoin is truly inspiring. Your hard work and determination are helping to build a stronger, more resilient financial system for all. Keep pushing forward, and let's continue to make bitcoin the future of money!
Bitcoin Pizza Day hangout, Port Harcourt, Nigeria (2022)
So mark your calendars for May 22, 2023, and join us for a day of fun, education, and celebration of the Bitcoin revolution. Tickets are available now on Crypto Bootcamp website. Don't miss out on this chance to be part of the Bitcoin movement and celebrate Bitcoin Pizza Day in style!
---
Join Crypto Bootcamp Community, the largest blockchain community in Africa, for this year's Bitcoin Pizza Day commemoration.
To Register for the event: https://bit.ly/3N8rSBl
Partnership: partnership@cbccommunity.com
Website: https://cbccommunity.com/events
Crypto Bootcamp Community
---
PR: Published by Crypto Bootcamp