by Edison Irabor
---
BoundlessPay, a platform where anyone with a mobile phone can access "a world of boundless opportunities", has attracted pre-seed funding from Tekedia Capital and Adaverse. According to the announcement published on Tekedia website 26 March 2023, Tekedia Capital "is excited to announce a lead pre-seed investment in BoundlessPay, with Cardano-focused accelerator Adaverse also participating."
The figures have however not been disclosed, at the time of writing this report.
BoundlessPay's vision and mission
BoundlessPay's vision is to build a top digital payment solution company that will eliminate barrier in crypto-fiat transactions and make blockchain-based payment accessible to everyone globally. 
Founded by Franklin Peters, a Nigerian, who is also the company CEO, Boundlesspay describes itself as "a secure application that turns your cell-phone into a mobile bank". With its pre-installed digital wallet and debit card, users are able to store and spend digital currencies across merchants globally. Boundlesspay also enable access to crypto loans, utility payments, digital currency investment, and other offerings in the world of decentralized finance (DeFi).
Tekedia Capital invests in Africa-focused companies
Tekedia Capital, the investor, offers an investment syndicate that makes it possible for citizens, groups, and organizations to co-invest in innovative startups and young companies in Africa. Its focus is on companies with primary operations in Africa, but just as in BoundlessPay's case, such companies could may be legally domiciled within or outside Africa. BoundlessPay, as published on its website, is a UK-registered company: Boundless Nexus Ltd, with businesses addresses in Dubai and London.
'Tekedia Capital invests primarily in technology anchored companies in any sector or industry", states Tekedia Capital on its website. "We're happy to bring Franklin Peters and team to the expanding Tekedia Capital family". 
Prof Ndubuisi Ekekwe, the Chairman of FASMICRO Group and the Lead Faculty in Tekedia Mini-MBA, also took to his popular Linkedin page to share the Tekedia Capital announcement.
Read also: Introducing crypto coins and tokens is one more distraction from focusing on development and improvement of ecosystem products, says John Mc Keown
Reactions from the BoundlessPay team
Responding to the Tekedia Capital announcement and Prof Ekekwe's Linkein post, Boundlesspay founder & CEO, Franklin Peters, thanked him for believing in BoundlessPay. He promises not to disappoint. Similarly, King-son Ariweriokuma, Boundlesspay marketing manager, also expressed his delight, saying that BoundlessPay is pleased and appreciates Tekedia Capital's pre-seed investment and "Adaverse's engagement with BoundlessPay". King-son also acknowledged the BoundlessPay CEO's vision and dedication: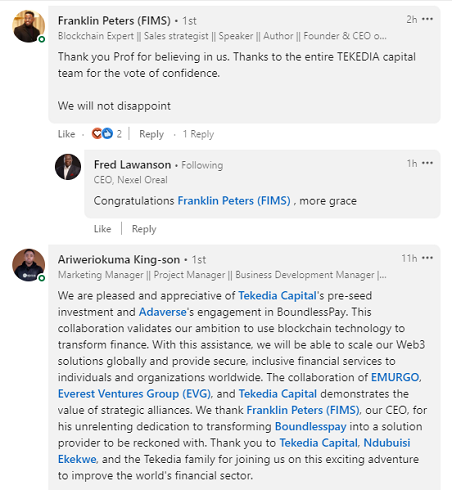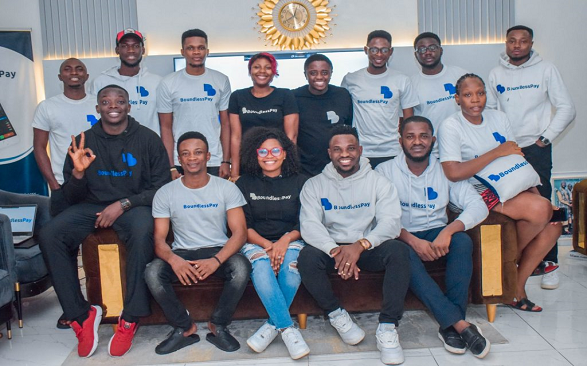 Adaverse is "happy to be in the same round", says Adaverse's Shogo Ishida
Co-CEO of Emurgo (Middle East and Africa), Shogo Ishida, confirmed Adaverse's participation in the pre-seed investment round in BoundlessPay. "Happy to be in the same round", he said, replying to Prof Ekekwe's post.
Launched in 2021, Adaverse is a Cardano ecosystem accelerator, focused on driving the development of blockchain technology on the continent. It provides access to funding, mentorship, and other resources towards supporting the growth of Web3 businesses in Africa. Adaverse is a joint venture partnership between EMURGO Africa and Everest Ventures.
BoundlessPay is a corporate member of Stakeholders in Blockchain Technology Association of Nigeria (SiBAN), where Franklin Peters is the current Vice President (Projects & Partnerships). Due to Nigeria's unfriendly regulatory climate to startups leveraging blockchain technology to offer services involving crypto, a number of local startups have either closed shop or relocated outside Nigeria. With the recent approval of the National Blockchain Policy by the Federal Government of Nigeria this month, many innovators and other stakeholders hope that the business and regulatory climate improves.
---
Featured image source: Boundlesspay