The United States Securities Exchange Commission's (U.S SEC) legal action against Binance has sent shockwaves through the cryptocurrency market, particularly causing significant price fluctuations for Binance Coin (BNB).  Where does BNB go from here?
SEC vs. Binance regulatory clash
On June 5, the SEC announced its lawsuit against Binance, alleging various violations of securities laws. The charges range from operating unregistered exchanges to misrepresenting trading controls and oversight. This development follows a surprising revelation by Binance's lawyers, who claimed that SEC Chair Gary Gensler had offered to advise Binance in 2019.
The SEC's stance on cryptocurrency regulation has left many enthusiasts worried about the lack of clear rules and guidelines. Coinbase, a prominent cryptocurrency exchange, filed a lawsuit urging the SEC to provide definitive responses to its petition for new digital asset regulations. A court ruling favored Coinbase, demanding the SEC to justify its delay in responding to the petition. However, the regulatory watchdog is yet to provide clarity, as requested by Coinbase.
The impact of U.S SEC 's lawsuit on BNB price
The price fluctuations of BNB exemplify how regulatory events can create volatility in the cryptocurrency market. The SEC's lawsuit against Binance triggered events that resulted in significant price drops for BNB and other cryptocurrencies. This highlights the connection between regulatory policies, market sentiment, and investor behavior.
Regulatory uncertainties have been a major challenge for the crypto industry. The lack of clear and consistent regulations creates a sense of instability and apprehension among market participants. The SEC's slow progress in establishing comprehensive rules for digital assets further adds to the uncertainty, leaving market players in a state of limbo. The impact of regulatory developments on cryptocurrency prices is evident from the reaction of market participants.
You might also like: What is BNB?
When news of the SEC's lawsuit against Binance broke, many investors and traders responded by selling off their holdings, leading to a sharp decline in BNB's price. The fear of potential legal repercussions and increased scrutiny from regulators fueled the selling pressure. Market sentiment plays a crucial role in affecting the price action of cryptocurrencies, and negative news or regulatory actions can significantly impact investor confidence.
The outcome of the SEC's lawsuit against Binance will undoubtedly influence the price and perception of BNB in the market. The legal battle is expected to face rigorous judicial examination. Both parties' conduct will be thoroughly evaluated, potentially shaping the future outcome of this high-profile case. If the battle turns in favor of Binance, it could possibly lead to a reversal of the current downtrend and a recovery in BNB's price.
You might also like: U.S SEC and Binance happy with agreements reached. Battle still ahead.
BNB price action and prediction
Following the SEC's lawsuit announcement, the notable effect this had on cryptocurrency prices was reported by CoinGecko, a leading cryptocurrency data platform.
Among the top 10 cryptocurrencies by market capitalization,BNB experienced a significant decline. Initially dropping by 9.4%, BNB's price further plummeted by 23.0% by June 12, falling from $305.57 to $235.20.
At the time of writing, BNB is valued at $236.89 with a 24-hour trading volume of $611,054,825.40. Over the past 24 hours, BNB has witnessed a decline of 0.51% while showing an increase of 1.56% in the past seven days. With a circulating supply of 160 million BNB, the cryptocurrency holds a market cap of $36,882,011,971. So far, BNB has experienced a 15% decline over the last 30 days.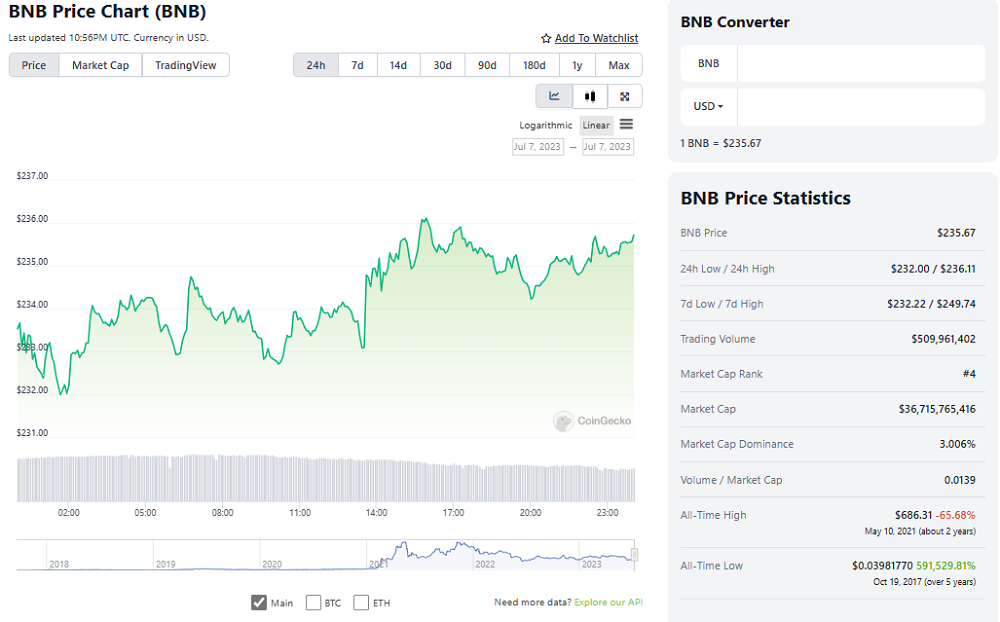 Credit: CoinGecko
BNB's chart reveals support levels at 230 to 228, while resistance levels are around 254 to 256. On the weekly timeframe, the Relative Strength Index (RSI) stands at 26.8, indicating a bearish sentiment as a current market condition.
TradederZ, market analyst and host of Markets with TraderSZ!, suggests that BNB may experience a substantial drop, possibly reaching the $180 price level. Considering the anticipated downturn, TraderSZ plans to accumulate a sizable position for long-term investment once the market stabilizes and the fear, uncertainty, and doubt (FUD) dissipates.
This is just TraderZ's speculation; not financial advice.
Market participants however expect a recovery in BNB price, if the regulatory battle turns out to favor Binance. Clearly, the final verdict of the SEC battle will significantly impact BNB's future trajectory and the overall stability of the cryptocurrency market.
Comparing the impact of U.S SEC's action on BNB to that against Ripple's XRP since 2020
To gain perspective on the price impact of the SEC's action against Binance, let's compare it to a similar situation involving Ripple and its native token XRP. In December 2020, the SEC launched a lawsuit against Ripple Labs, alleging unregistered securities sales and casting uncertainty over the future of XRP.
The impact of the SEC's action on XRP was profound, with the token's price plummeting in the immediate aftermath of the lawsuit's announcement. XRP price dropped from a high of $0.6 to $0.26 following the lawsuit in December 2020. Many XRP holders suffered substantial losses, and the token's liquidity and attractiveness to new customers were severely affected.
When comparing this to the price impact on BNB following the SEC's action against Binance, we can observe a significant difference. While the lawsuit against Ripple caused a sharp decline in XRP's price, the impact on BNB has been less severe.
This discrepancy in price impact suggests that the market is showing more confidence in Binance and its ability to navigate the legal challenges compared to Ripple. Market confidence plays a crucial role in determining the price behavior of cryptocurrencies. It is expected that Binance will do its best to address concerns and provide reassurance to investors, which could lead to a more resilient market response. Also, there is generally a growing discontent over the U.S SEC's regulatory approach under Gary Gensler. What has been generally described as the U.S SEC's regulation-by-enforcement approach has resulted in a number of crypto companies being sued or also suing the U.S SEC. This is unlike 3 years ago when only Ripple's XRP was the top 5 coin caught by the U.S SEC's enforcement action. While this may be a win for the U.S SEC, it has an increasing negative effect on the very consumer protection and investor safety that the U.S SEC is statutorily mandated to ensure.
However, the situation is still evolving, and further developments in the ongoing lawsuit against Binance is expected to impact BNB price in the future.
Read more:
Why exactly the U.S SEC sued Binance, the biggest crypto exchange in the world, and Zhao
---
Credit: Solomon Victor is a Technical Analyst who is also knowledgeable about various aspects of blockchain and cryptocurrency.