Introduction
Algorand has partnered with FIFA, the world football governing body, to become FIFA's official blockchain partner, according to a press release by FIFA on Monday. 
Apart from becoming FIFA's official blockchain platform, Algorand will offer the organization a blockchain-supported wallet solution. The partnership involves sponsorship and technical support by Algorand.
As the benefits of this partnership, Algorand will become a FIFA World Cup Qatar 2022 regional supporter in North America and Europe. Additionally, Algorand blockchain network will become the official sponsor of FIFA Women's World Cup, Australia and New Zealand 2023.
Under the partnership agreement, Algorand will also help FIFA develop its digital-assets strategy. In return, Algorand will get certain benefits, including advertising, media exposure, and promotional opportunities.
On the occasion of the announcement, FIFA President Gianni Infantino said: "We are delighted to announce this partnership with Algorand. The collaboration is a clear indication of FIFA's commitment to continually seeking innovative channels for sustainable revenue growth for further reinvestment back into football ensuring transparency to our stakeholders and world-wide football fans – a key element of our vision to make football truly global. I look forward to a long and fruitful partnership with Algorand."
FIFA Chief Business Officer Romy Gai added: "This announcement is an exciting moment for FIFA, as it officially enters into the world of blockchain and the opportunities this presents across various applications. At FIFA, we must constantly strive to identify and explore the most cutting-edge, sustainable and transparent means of increasing revenues to continue to support global football development. Algorand is clearly a forward looking, innovative partner that can help us achieve these goals." 
Founded by Turing Award-winning cryptographer Silvio Micali, the Algorand provides a blockchain-technology platform to up to 2000 global organizations, governments, and digital-native DeFi applications. In particular, Algorand helps organizations in finance, gaming, music, art, and the sports world that seek to adopt Web3 digital capabilities as a path to accelerate growth, inclusiveness, transparency and innovation in an environmentally responsible way
Silvio Micali, founder of Algorand said: "This partnership with FIFA, the most globally recognised and distinguished organization in sports, will showcase the potential that the Algorand blockchain has to transform the way we all experience the world's game."
As a result of news of the FIFA partnership, Algorand's native ALGO token surged more than 20% in less than 24 hours. Price rose above $0.74 from Monday's $0.59, breaking resistance at the $0.60 level, according to data from Coingecko.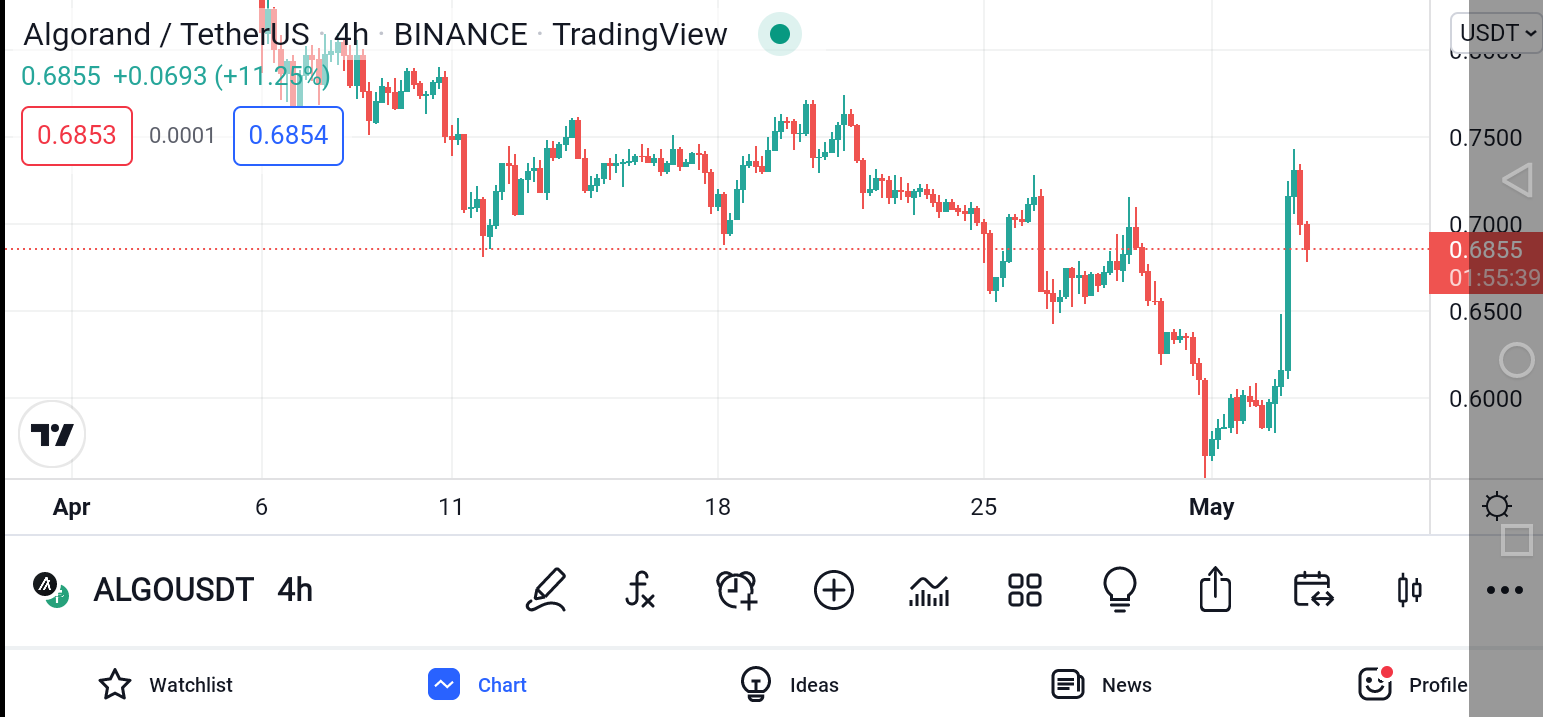 After the excitement of the FIFA partnership is over, it is expected that the price will gradually go down, until certain fundamentals change, such as having one or more utilities introduced by virtue of the FIFA partnership.
Crypto analysts believe that Algorand will gain huge exposure as they will become the official blockchain platform of FIFA and provide the official blockchain-supported wallet solution. 
Algorand is a green blockchain technology company. The Algorand blockchain is a pure-proof-of-stake blockchain cryptocurrency protocol with a consensus mechanism chosen for scalability. The total supply of ALGO is capped at 7.1 billion coins, with over 6.7 billion ALGO already circulating. ALGO is available on AAX, Binance, HitBTC, and a number of other exchanges.
Trade carefully.
The cryptoassetbuyer, investor, or trader is advised to trade carefully. Always apply appropriate risk management, and take profits where possible. The bulls and bears are forever in battle. Hence, we continue to closely watch the market to see if it makes a move, whether green or red. Keep a close eye on the market with CAB's Crypto Market Live page where you can view price changes of several thousands of coins and tokens live.