Within 30–31 January 2023, the story that Nigerians were paying from 60%–100% extra to buy bitcoin on crypto exchanges in Nigeria, including NairaEX and Paxful, circulated on social media. This story is false.
The story about the Nigerian crypto exchange NairaEx was first published on Cointelegraph on 30 January. According to Cointelegraph, bitcoin (BTC) premium hit 60% in Nigeria due to ATM cash withdrawal limits by the Central Bank of Nigeria (CBN) in the country. In other words, Nigerians were paying the equivalent of over $38,000 in the local currency, the naira, per BTC. The Cointelegraph publication relied on the price of 1 BTC as seen on NairaEX. As Coinlegraph put it, 1 BTC was 17.8 million nairas, "equating to a whopping $38,792", … "more than a 60% premium over the current market price of Bitcoin, around $23,700 at the time of writing".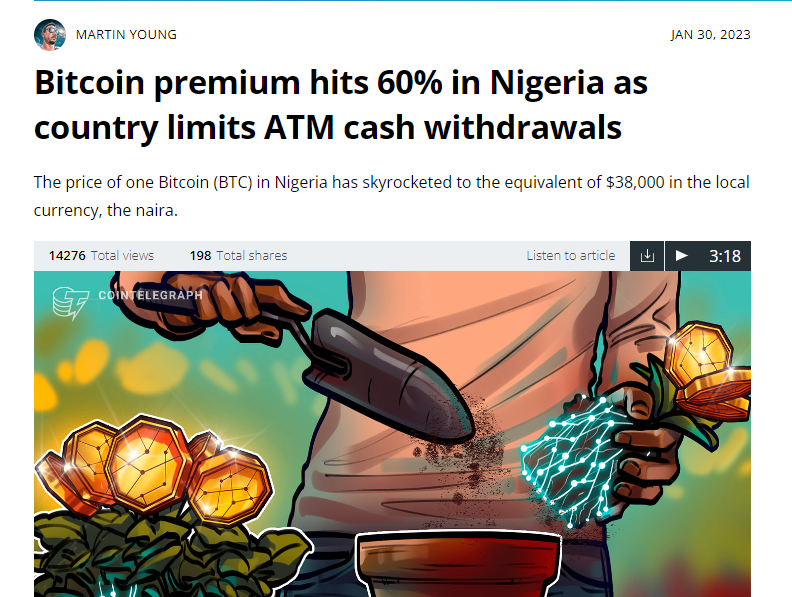 Apart from Cointelegraph, other media sites also published this story, including TechNext on 31 January 2023. According to TechNext, one BTC was worth NGN 17.8 million on NairaEX which based on the official currency rate equals $38,673. Compared to BTC market price of $23,603 at the time of TechNext's report, BTC is 63% more expensive on NairaEX.
Coingecko, crypto-market data site, also tweeted the story 30 January 2023, citing CBN's cashless policy as the possible trigger.
Bitcoin, with over 5.7million followers, similarly tweeted the false story. It later deleted the tweet, apparently after verifying the correct numbers.
Read also: What is bitcoin?
NairaEX has denied the claims in the media.
NairaEX, in a tweet 2 February 2023, denied the story. According to NairaEX, contrary to the news from several foreign sources claiming that NairaEX sells BTC at $38,000 or $40,000 in some cases, NairaEX trades BTC at $22,989 at parallel market rate of NGN 740–NGN 750 per dollar (at the time NairaEX published the tweet). 
Obviously, the reason for the confusion is the difference in the exchange rate. On NairaEX homepage, it states that BTC is offered at premium market rates. This means that although BTC "rates do constantly fluctuate", at NairaEX "the exchange rate is set at the time of transaction".
The current President of Stakeholders in Blockchain Technology Association of Nigeria (SIBAN), Obinna Iwuno, also refuted the story in a reply tweet.
How about the claim that bitcoin was selling at up to $47,000, a 100% premium, on Paxful?
Apart from NairaEX cryptocurrency exchange, there was also the similar story of BTC being sold at huge premium on the peer-to-peer bitcoin exchange Paxful. The claimed BTC price was $47,000, amounting to 100% premium.
This report appears to have started on Twitter when a user, NEED Creations, connected with Nigeria Bitcoin Conference and The Bitcoin Village, tweeted "Look how much Nigerians are paying for #Bitcoin right now on @paxful'. A screenshot, seemingly showing that Paxful's peer-to-peer traders offered BTC at over $47,000 per coin, accompanied the tweet.
Read also: What will happen after all the 21 million bitcoins have been mined?
While the listed BTC prices are seemingly over $47,000, a closer look reveals that right under the quoted price are: 1 USD = 2.02 USD of BTC. In other words, 1 USD is interpreted as 2.02 USD of BTC. The result of this is that the total price for one BTC is doubled i.e. $23,962 times 2 which equals $47,924.
Nathaniel Luz, author of Bitcoin is Cash and a former Product Manager at Paxful, says the claim is false. Reacting to a tweet that Nigerians were buying BTC at 100% premium, Nathaniel maintained that the margin in Nigeria is only +2% when BTC when buying with the Nigerian naira (NGN) and +10% when buying with the United States dollar (USD).
Nathaniel is right.
At the time of writing, Paxful has not issued any statement.
But our findings at CAB show that BTC was available at the normal price, not anywhere around the 100% premium or $47,000 flying around on social media.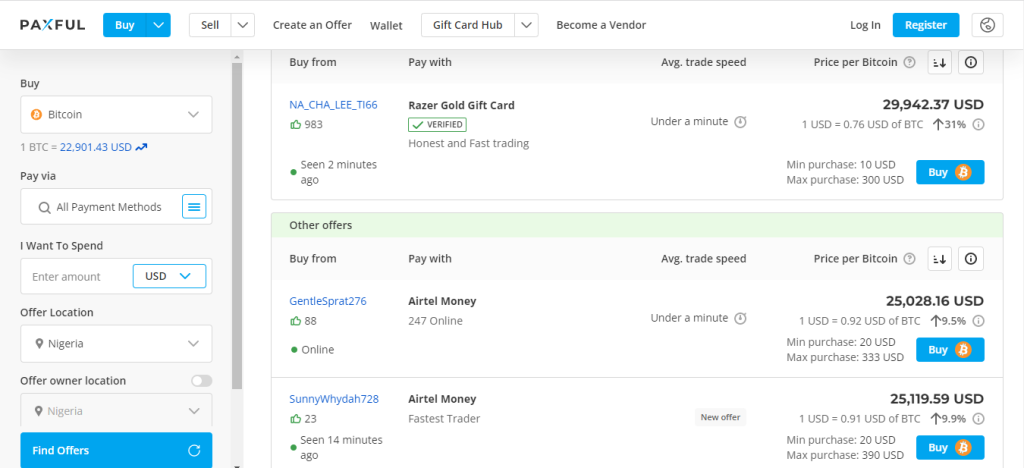 Bundle, Luno, OBIEX, Roqqu, and Quidax crypto exchange platforms in Nigeria all offer bitcoin at normal prices
Apart from cross-checking with NairaX and Paxful crypto exchanges, CAB went to town to confirm if any Nigerian exchange or foreign exchange operating in the Nigeria market offered bitcoin at huge premiums or margins, as reported in the media.
None did.
On Bundle Africa, the selling rate of BTC was $22,845.59, at the time of writing.
Also, on Luno, BTC was selling at NGN 17,131,989, which is about $22,842 based on the parallel market exchange rate of about NGN 750 at the rime of writing..


BTC prices on the same day on OBIEX, Roqqu, and Quidax—all local crypto exchanges in Nigeria—was also at the normal global rate. None of these exchanges sold BTC at a price significantly different from other exchanges around the world:
OBIEX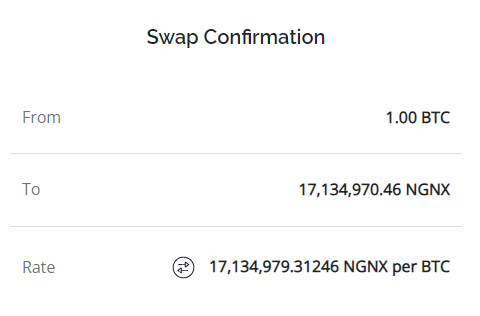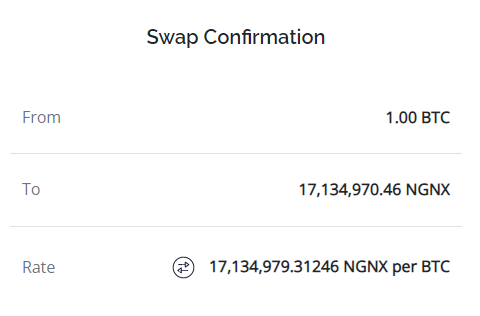 Roqqu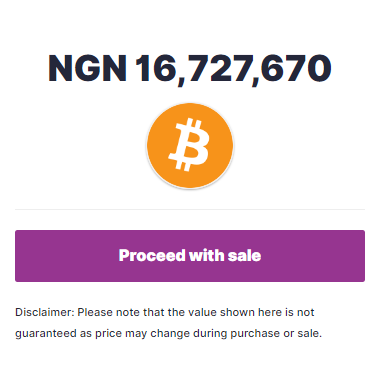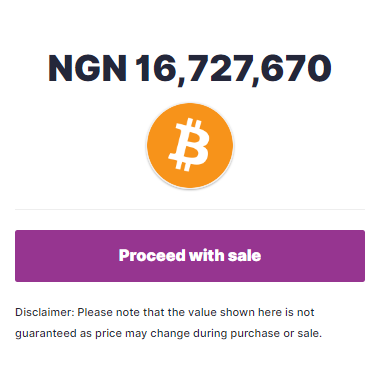 Quidax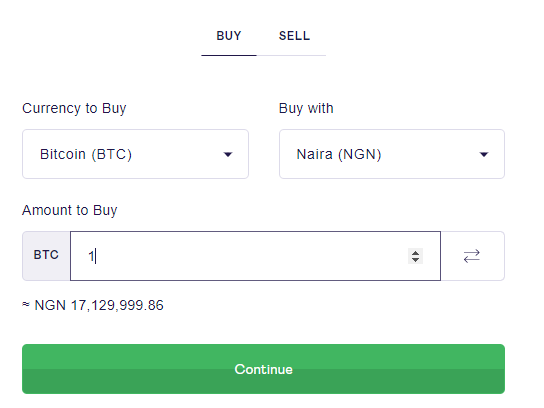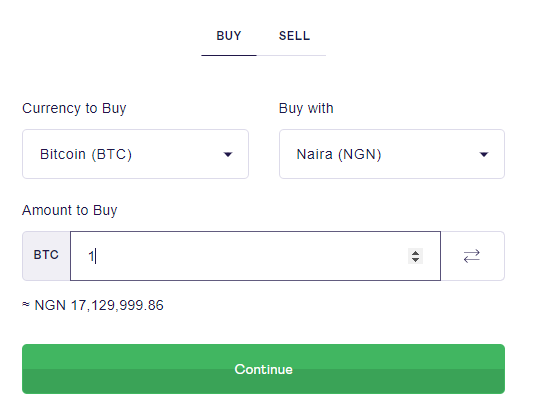 The story is therefore false.
We observe that authors of the false story must have wrongly relied on the official CBN exchange rate of N460 per dollar rather than the parallel market rate which is used in the market, including the crypto market. Applying the current official CBN rate of N460 per US dollar, the BTC price would hit over $37,000, thus appearing to be a huge premium of up to 60%.
Read also: What is bitcoin halving and why does it matter to crypto investors?
Rounding off
While CBN's increasing restrictions and aggressive cashless policy may have impacted Nigerians' demand for bitcoin and other cryptocurrencies, this isn't new. Particularly since the CBN restriction against cryptocurrency in Nigeria's banking and financial system in February 2021, more crypto users have largely moved to p2p platforms for their crypto needs. As a matter of fact, CBN's redesign of the Naira and the cash-scarcity crisis that its implementation has triggered in the past few weeks has reinforced that cash is king. With low supply of cash (NGN), demand for NGN has significantly increased.
Also, Nigeria's general elections—coming up 25 February and 18 March— are not expected to have a significant impact on bitcoin price.
Besides, the average Nigerian will not buy bitcoin at any huge premium as the Nigerian youth and mobile population are very exposed set of people. If there is any market where bitcoin is sold at such high premium, expect the Nigerian to be the sellers, not buyers. Nigerians trade on virtually all the top crypto exchanges in the world.
Read also: BTC jumps above $21,000 for the first time since November 2022. Is the crypto winter now over?
---
Featured image source: Quora