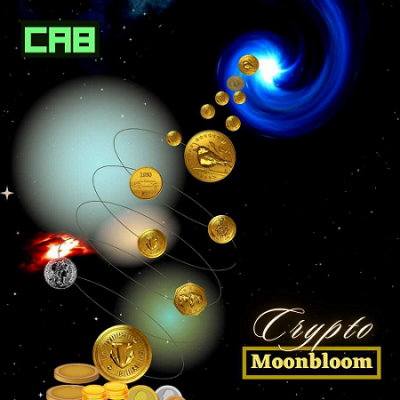 Introducing Crypto Moonbloom, spotlight for blockchain & crypto projects
If your project provides a solution powered by blockchain technology in any industry or sector, we are happy to consider your project for a special feature on Crypto Moonbloom. Whether you have raised funds before is not important. And you don't have to pay us to get featured on Crypto Moonbloom, as long as we consider that your project merits the spotlight.
At CAB, 'crypto moonbloom' does not mean plowing huge gains from coins invested in or cryptocurrency prices rocketing from the charts. Rather, it's our description of the increasing level of adoption and growth a project begins to experience as it launches its blockchain or crypto products, gains traction, and eventually scales. Because we understand and appreciate how vital visibility is for any project, we have designed Crypto Moonbloom to support projects that want to buidl, grow, and moon.
With Crypto Moonbloom, we are particularly interested in focusing on projects that already have minimum viable products (MVPs) or existing products which—in our independent opinion—have good use cases. Also, if your project does not already enjoy adequate media coverage from traditional media, Crypto Moonbloom is happy to help. Crypto Moonbloom is biased towards Africa-focused projects, but again merit comes first. Don't tell anyone!
Crypto Moonbloom is 100% anti-scam. While we do not guarantee in any way that projects cannot or will not fail, we apply effort to screen all projects submitted to us in order to ensure that projects featured on Crypto Moonbloom are not scam projects.
If you believe your project is the kind of project we are looking for, don't hesitate to introduce your project to us by emailing editorial@cryptoassetbuyer.com. Please keep it clear, comprehensive, and concise. Ensure that you include the profile(s) of the project founder(s)/manager(s).
While we endeavor to respond to every submission within 14 days, please we may not be able to respond to all submissions depending on the volume of projects on our Crypto Moonbloom desk.
Note: CAB does not charge projects that wish to get featured on Crypto Moonbloom. It is 100% merit, subject to availability and editorial review. Any donation, voluntary, is accepted:
Bitcoin Address (Legacy Network): 1APFm8TdMH4tJyBtUBY9kmgxTX58URtGnn
Bitcoin Address (Segwit Network): bc1qzrj0cnemzfnrktpw7mmph2eku49089qm9tpmzt